Can guys with big thighs wear skinny jeans? The fashion experts will say no, emphasizing that straight leg styles are more flattering on men. But people want what they want, and if that's the best skinny jeans for guys with big thighs, then we'll go with it.
Which jeans are best for big thighs? We'll give you a hint: athletic fit jeans. That's because they have stretchy materials like spandex and elastane woven in with the cotton. They're designed to cling to the shape of the body whether those curves come from huge muscles or a genetic predisposition to large thighs.
It doesn't matter why you have big legs. Just look at Jason Momoa – even he's been body-shamed for having a "dad bod" in-between films. Not everyone can be Milo Ventimiglia or Winston Duke all the time.
So, if your legs are swole and you want to show them off, here are the best jeans for you:
How to pick the best jeans online when you can't try them on first
You might be tempted to look at the waistband of your current pair and use that as a size guide. But sadly, manufacturers change things up once in a while and what was once a 32W 32L in the old style might be a 30W 32L in the new.
There's no help for it, you really need to take your measurements. Strip to your skivvies and wrap the tape around your natural waistline above your hips near your belly button. Write down that number and move the tape to your hips at the widest point. Note that decimal and measure your inseam from your package to your ankle where you want the cuff to fall. Round up each number to the nearest half-inch.
Now you're ready to consult the size chart on every single pair you want to order. Just do it because brands are not consistent with each other and styles within brands aren't either. This step will save you the hassle of having to return the wrong size almost all the time.
The good news is that if you're in between sizes and you want a snug fit, the jeans we reviewed all have a bit of stretch, so you can probably go with a smaller size. (Just don't wash them in hot water or toss them in the dryer).
Best Skinny Jeans for Guys with Big Thighs in 2023
Goodthreads Men's Athletic-fit Jean
Let's start with the best jeans for muscular legs and a small waist. This pair fits a 6-foot-tall guy with a 34-inch waist and 27-inch thighs.
The official description of the jeans says that they have a roomier cut for the thighs and hips but the legs taper down to a 14 and a half-inch opening at the bottom of the calves. This means you don't need to size up to accommodate large legs. You don't have to compensate for a too-large waistband by wearing a belt. The jeans just fit.
What makes the magic work is the cotton-polyester-elastane blend. The 2% elastane gives it just enough stretch without turning them into yoga pants.
Moreover, these are standard 5-pocket jeans with no special branding. They come in a variety of colors like dark blue, light blue, white, and black. All of them have a zip fly with button closure. Lastly, they are machine-washable.
Pros:
Cut roomier through the thighs and hips with tapered legs
Perfect for a small waist and muscular legs
Cotton-polyester-elastane blend is slightly stretchy to conform to the body
Unbranded 5-pocket jeans available in various colors
Machine-washable
Cons:
Goodthreads Men's Athletic-fit Selvedge Jean
There's no polyester here. The fabric is 98% cotton, 2% elastane. It's a dense weave that takes a little more time to break in but pays off in durability.
Similar to the jeans above, these are roomier through the hips and thighs. Then they taper down to a 14.5-inch opening. Although you can get the same style in a true Skinny fit, those don't have enough room for big thighs. However, the way the jeans hug the body and the fact that they have tapered legs makes them resemble a skinny fit.
Reviewers say that the Selvedge jeans seem to run a little smaller, but they soften up over time.
Pros:
Classic 5-pocket jeans with roomy thighs and tapered legs
98% cotton, 2% elastane fabric stretches and conforms to the body
Machine-washable and durable
Cons:
GapFlex Athletic Taper Jeans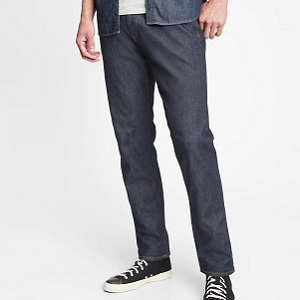 The gap also makes athletic build jeans that suit big thighs. They feature a unique blend of cotton, Lycra, and Elasterrell for just the right amount of stretch. It's called GapFlex technology.
The jeans look attractive on guys with a muscular build. They even have a bit more room in the calf (14 and three-quarter inches) even though the legs are tapered.
Moreover, these machine-washable pants have a raw indigo rinse, dyed with a water-saving technology called Washwell.
Pros:
Designed for big thighs and muscular legs
Cotton denim with Lycra and Elasterrell to make them form-fitting
Made with water-saving technology
Cons:
Only available through The Gap (watch out for fakes)
Lucky Brand Men's 410 Athletic Fit Jean
If you have big thighs and calves, these jeans have a 15-and-a-half-inch leg opening. They're a little further from the skinny style as they have a more relaxed feel.
However, the cotton-polyester-elastane fabric has a slim cut that hugs the body for a snug but stretchy fit. The front rise is 11 inches so they hit at or just below the natural waist.
Reviewers like how the jeans move with them, saying they feel very comfortable. They come in a variety of colors, too.
Pros:
Stretchy cotton-polyester-elastane fabric with room for big thighs and calves
Mid-rise waist and classic 5-pocket design
Available in a variety of colors
Cons:
Not true skinny jeans, but a slim fit with tapered legs
GINGTTO Men's Skinny Jeans Stretch Ripped Tapered Leg
Let's be honest – the right jeans can maximize your sex appeal. This pair emphasizes every bulging muscle, hugging the body from the waist down.
This is possible because the jeans are made of 65% cotton, 32% polyester, and 3% stretchy spandex. Take note that the manufacturer recommends going a size up if you have big legs.
One reviewer responded that the jeans allow a full range of motion and fit just right. Another bought a second pair because they were so comfortable.
Choose from sizes 28 to 36 in a variety of colors.
Pros:
Cotton/polyester/spandex blend allows a full range of motion
Emphasize a muscular build
Available in different colors
Cons:
No sizes larger than 36
Ripped style is trendy but casual
Lee Men's Performance Series Extreme Motion Tapered Leg Jean
These aren't skinny jeans, at least not for the average guy. But the straight cut will look flattering on men with big thighs. The more generous fit at the top will make it look like the legs taper at the bottom. The effect is enhanced with the cotton-spandex blend for a little extra give.
Furthermore, they have an Extreme Flex waistband for extra comfort. It sits just below the natural waistline.
Guys who wear these for work say that they're perfect for squatting, kneeling, and climbing ladders. Every part of the jeans stretches to the point where some of them purchased a size smaller.
Pros:
Attractive on guys with big thighs
Cotton/spandex blend stretches for a close fit
Extreme Flex waistband
Available in different colors including black and khaki
Comes in sizes 28 to 42
Cons:
Not true skinny jeans but rather a stretchy pair with a straight cut
Levi's Men's 512 Slim Taper Fit Jeans
If you have 24-inch quads, you'll find these jeans roomy enough in the thighs. They aren't skintight like Levis 510s and not baggy like the 511s. Instead, they hug the thighs and taper down for a slim fit around the calves.
With only 1% elastane, they aren't super stretchy. But the cotton-polyester blend is comfy enough due to the Levi's Flex technology.
What's more, they come in colors for every occasion as well as regular and ripped styles.
Pros:
Slightly stretchy fabric with a slim cut for more room in the thighs
Made for a just right fit with Flex technology
Available in several different colors in sizes 28 to 42
Both ripped and regular styles
Cons:
Not truly skinny jeans, but look like a skinny fit on guys with thick thighs
Amazon Essentials Men's Skinny-fit Stretch Jean
This pair of men's skinny jeans looks promising on paper. The fabric is 98% cotton, 2% elastane so it has a noticeable amount of give, but it feels tight on big thighs because of the cut. The reviewers that rated them highest seem to have longer legs and don't mind the low-rise waist.
On the bright side, they're affordable and come in a full range of colors and sizes. Still, these jeans wouldn't be our first pick for guys with an athletic build.
Pros:
Cotton-elastane blend feels stretchy
Low-rise waist and classic 5-pocket design
Available in a full range of colors and sizes
Cons:
Legs seem to run long
Skinny cut might be too tight for big thighs even with the stretchy fabric
Wrangler Authentics Men's Athletic Fit Stretch Jean
Wranglers have a reputation for being cowboy jeans or work pants, but don't let that put you off trying this pair. They feel custom-fitted because of the flexible fabric. It's made of 99% cotton, 1% spandex for plenty of breathability and just the right amount of stretch.
Furthermore, they have an athletic fit with more room for the thighs and seat. But the legs taper at the bottom, making them resemble a skinny fit. However, the dye job makes them look permanently wrinkled and somewhat baggy in the front by the pockets. At least they don't smash the package.
Of course, they have the usual front scoop pockets and back spade pockets with the tiny watch pocket in the front. (Believe it or not, we didn't know these terms until we learned them from Wrangler).
Pros:
Breathable, slightly stretchy cotton-spandex fabric
Roomy for the thighs and seat with tapered legs
Available in dark blue, light blue, charcoal, and charcoal black
Cons:
Not truly skinny jeans, but they have slim legs that are roomy enough for big thighs
In each available color, the front dye job makes them appear baggy
Conclusion
We hope our reviews helped you find your new favorite pair of jeans today. A little time spent shopping should help you find the perfect match. If you love how they fit, feel free to share the good news below.