What is special about dancing shoes? How are they different from regular footwear?
Obviously, you can wear anything you want when you're dancing around your house. But if you take a dancing class, there's likely to be a requirement about using specific footwear specific to the type of dance.
For example, the best dancing shoes for ballet are slippers and pointe shoes. But you'll want character shoes for ballroom dancing, ghillies for Irish dancing, and so forth. The best shoes for dancing salsa are visibly different from jazz shoes, tap shoes, and sneakers for hip-hop.
Dance shoes tend to have special features like a tight but flexible fit and a sole that can slide and spin easily or make noise depending on the type of dance.
We reviewed the best dancing shoes for various styles. You can learn more about the features and benefits of each type of dance footwear below:
Best Dancing Shoes in 2022
Capezio Women's Jr. Footlight T-Strap Dance Shoe
Let's start with character shoes which are perfect for musical theater and learning social dance. They are commonly worn by people taking ballroom dance including the waltz, cha-cha, tango, and more.
What's more, this particular pair of character shoes is compatible with tap plates (Tele Tone, Duo Tone, and Selva Staccato) so you can wear them for tap dance.
The satin finish polyurethane uppers come in either black or caramel colors. Meanwhile, the soles are scored and stitched leather and have a two and a quarter inch heel. Don't be deceived – this is not a typical pair of heels. The heel design has undergone stringent stress testing and is firmly attached to withstand repeated impacts and rapid movements.
Moreover, there is a light shank and a supportive arch for comfort. Even the back of the shoe is notched to protect the Achilles tendon when you point the foot. None of these features are surprising because Capezio is one of the top dance shoe brands worldwide.
To get a proper fit, the recommendation is to go up half a size from your street shoe size. The shoes are available in 4.5 to 12.5.
Pros:
Character shoes from one of the top dance shoe brands in the world
Suitable for ballroom dance, musical theater, and compatible with tap dance plates
Sturdy, comfortable design available in two colors and a wide range of sizes
Cons:
Not for use as street shoes because of the soft leather sole
Irish Dance Pumps – Ghillies
Men wear reels and women wear ghillies for Irish dance. The ghillies are low-cut, lace-up shoes with a suede sole. They are made to allow the dancer to perform intricate dance patterns, much of which is done on the toes. Therefore, this pair has a unique shock-absorbing gel cushion in the toe box.
The material is all leather. What's interesting is the light-reflective coating with a diamond print that makes the shoes sparkle.
Be sure to read the instructions regarding how to lace and care for the shoes. They come with a cotton drawstring bag for transport.
Pros:
Women's footwear made for Irish dance
100% leather with a special lace-up design and diamond print coating
Shock-absorbing gel cushion in the toe box
Cons:
Definitely not for streetwear but surprisingly comfortable for dancing
TTdancewear Women Rhinestone Ballroom Dance Shoes Latin Salsa
What heels are best for dancing? You can't go wrong with Latin dance shoes. There are so many different styles that it may take you a while to narrow down what you want. Here are a few things to look for.
First, if you compare ballroom dance heels to Latin dance heels, you can see that the Latin shoes are often open-toed and more like a sandal with straps instead of an enclosed shoe. Also, there are different heel heights. For example, this pair comes in either 2.5-inch or 3-inch versions. Check with your instructor or the competition rules to see which would be appropriate for the type of dancing will be doing.
Next, the shoes are flexible and lightweight, designed to handle rapid movements including spins, hence the leather sole.
Lastly, Latin dancing shoes are often quite flashy and studded with sequins. This pair is no exception. They make it just that much more fun to tango.
Pros:
Lightweight, flexible, leather-soled Latin dance shoes
Available with either 2.5 or 3-inch heels
Available in various colors and studded with sequins
Cons:
Very Fine Men's Perseus Ballroom Latin Social Dance Shoes
Here's what men wear for Latin dances like cha-cha, salsa, and bachata. The entire sole including the heel is suede for gliding, spinning, and sliding. Unlike Cuban-style dance shoes, this pair has a low heel. It's cushioned to absorb shocks and the insole has a steel arch support.
Unlike dress shoes, this pair has a leather interior instead of a leather exterior. It's designed to mold to the foot like a glove. There's also a bit of cushioning.
At the same time, the exterior is microfiber. While we reviewed the shoes, we saw some complaints that the material isn't as durable as full leather. However, it's much more breathable.
The brand has even paid attention to details like the lace-up eyelets as they are nickel-free and hypoallergenic.
Pros:
Low-heeled Latin dance shoes with full suede soles
Leather uppers fit like a glove while the microfiber exterior provides breathability
Shock-absorbing heel and interior cushioning
Cons:
Some complaints about durability
Theatricals Adult Lace Up Tap Shoes T9500
Tap dance is great exercise and it's downright fun. This unisex pair of tap shoes is budget-friendly and ready to rock right out of the box.
They have a full hard sole and come with screwed-on (front and rear) tap plates and soundboards. The fact that they are screwed on means you can replace the plates if needed. (Compare that to cheap tap shoes with nailed-on plates).
The uppers are polyurethane leather in a classic oxford lace-up style. The interior has a cushioned sock lining, too.
Pros:
Unisex tap shoes with a hard sole
Come ready to dance with screwed-on front and rear tap plates
Cushioned sock lining
Cons:
Not very well ventilated – they tend to get hot and sweaty
Bloch Dance Women's Performa Stretch Split Sole Ballet Shoe/Slipper
These are ballet slippers, not pointe shoes. They are soft, lightweight, and super flexible, with leather pads on the heel and toe. The top part of the shoe is breathable canvas with pre-sewn crossed elastic straps. The downside is that the straps are not adjustable.
The first thing to know when choosing ballet flats is that you'll need to size down. If you wear a size 8 street shoe, drop down two and a half sizes to a five and a half ballet slipper. It sounds crazy, but that's how it works.
Pros:
Canvas ballet flats with leather pads on the heel and toe
Pre-sewn crossed elastics on top
Available in five different colors
Cons:
Straps are not adjustable
Bloch Dance Women's Super Jazz Slip-On Jazz Shoe
Australian brand Bloch also makes jazz dance shoes. They have a split sole for maximum flexibility during high energy moves and a low rubber heel with EVA outsole. The sole is lightly textured to maintain balance between gripping the floor and sliding.
Besides jazz dance, you can wear them for musical theater like Cats and acrobatic rock 'n roll. These are slip-on shoes with a full-grain leather upper and an elastic piece over the top of the foot. The cotton liner helps them feel a little less sweaty.
They come in either black or tan. To find the right size, go half a size up from your street shoes. Even if they fit a little snug at the beginning, they will stretch.
Pros:
Lightweight, flexible jazz dance shoes with split soles
EVA outsole provides grip and allows spins and slides
Full-grain leather uppers with a cotton liner
Cons:
Capezio Women's DS11 Fierce Dansneaker
The best shoes for dancing hip-hop would resemble this pair. They are also comfortable for aerobics or Zumba class.
The mesh and polyurethane upper makes them look like a pair of basic gym shoes. But when you flip them over, you'll see that they have a non-marking split sole that adds about three-quarters of an inch in height. The heel is about 1-inch high.
Look at the deep score lines across the sole. Those are flex points. The front part of the shoe also has a spin spot. It's all about being able to move in ways that gym shoes can't.
In the padded upper, the rear of the shoe has a notch for the Achilles tendon. This allows you to point your toes without feeling the shoe dig into the back of your foot. Then, there's one other benefit in case you wear custom orthotics. The interior EVA footbed is removable.
Pros:
Perfect for hip-hop, Zumba, and aerobics
Non-marking split sole with flex points and a spin spot
Removable footbed and notch for the Achilles tendon
Cons:
Not the most attractive shoes, but comfortable and very functional
Converse Unisex All Star '70s High Top Sneakers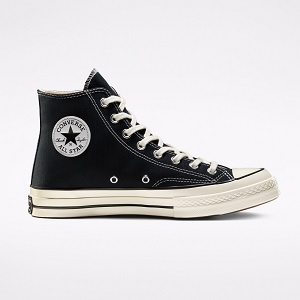 What about the best shoes for dancing on concrete? None of the other dance shoes we reviewed above are appropriate for street dancing. However, some professional dancers like Sri Lakshmi recommend Converse All Stars. He says the Converse have a low base and are excellent for flares and fast footwork in styles like waacking and hip-hop.
Pros:
Suitable for street dancing on concrete
Used by professionals for hip-hop and waacking
Cons:
Conclusion
If you're serious about tripping the light fantastic, it's worth the investment to get the best dancing shoes. The right shoes help you perform the moves and maintain your focus without feeling restricted or getting blisters. They will make it just that much easier to enjoy the experience.
We hope our reviews helped you find the best shoes for dancing today. If you love them, please come back and tell us about them in the comments below.