If you're anything other than extremely petite, you've probably noticed that bra sizing is far from universal and that it varies wildly depending on the brand and type of bra you're looking to buy. So how do you tell if you need a full-figure bra or just a full-coverage bra?
The truth is, the two types of bras are very similar, but some differences between them might make one better for your needs than the other.
As you know, wearing the right bra is essential to good health because it can reduce back pain, improve posture, and lift sagging breasts.
There are two main styles of bras for large-busted women: Full-coverage and full-figure bras. These two bra types both look like they provide similar bust support and lift, but they are not the same.
This article with arm you with more information on full-figure vs. full-coverage bras to help you choose which type of bra will work best for your body type and needs.
In this guide, you'll find everything you need to make an informed decision about your next bra purchase. You see, it's not as simple as just knowing your bra size. There are a lot of other factors that can make a bra less or more comfortable for you.
What are full-coverage bras good for?
A full-coverage bra is a great option for women who want more lift, shaping, comfort, and security from their undergarments. These bras are typically designed with wider straps and a higher center panel to provide maximum lift and support.
Full-coverage bras are also often made from sturdier materials to provide additional hold and control. While they may not be the sexiest or glamorous option, full-coverage bras can be a great choice for women who desire a little extra support.
What does bra coverage mean?
In the lingerie world, the term "bra coverage" refers to the amount of breast tissue that is covered by a bra. There are four main types of bra coverage: full coverage, demi-coverage, balconette, and plunging.
Full-coverage bras offer the most support and coverage, with cups that fully cover the breasts. They are a good choice for women with larger breasts, or for those who want more support and stability.
Demi-coverage bras have cups that only cover half of the breast, exposing more of the upper chest and cleavage. They are a good choice for women who want to show off their curves but still want some support.
Balconette bras have a wide set band under the cups that lifts and supports the breasts without covering much of the chest. It's difficult but not impossible to find balconettes and strapless bras in full-figure sizes.
Are a minimizer bra and a full coverage bra the same?
A minimizer bra and a full-coverage bra are not the same. A minimizer bra is designed to minimize the appearance of the breasts and reduce cup size while a full-coverage bra simply encases and supports the breast.
Minimizer bras might be made of thinner material than full coverage bras, and they often have less padding to further reduce the profile. They tend to have more extensive closures with more hooks.
What is considered a full-figure bra?
A full-figure bra is a type of brassiere that is designed to support and even draw attention to large breasts. They come in plus sizes and often have wide straps and a more supportive band to provide additional comfort and lift, but they don't look like a grandmother's garment.
While full-figure bras are designed to provide support for a big bust, they can be worn by women of any size. Moreover, full-figure bras can also help to minimize back and shoulder pain by distributing weight more evenly just as full-coverage bras can.
If you're considering purchasing a full-figure bra, it's crucial to find one that fits well. This type of bra should feel comfortable and secure without being too tight or constricting.
What is a full-coverage bra?
A full-coverage bra is a type of bra that covers the entirety of the breast, including the sides and the back. Full-coverage bras are typically designed for women with larger cup sizes, as they provide more support and coverage than other types of bras. While full-coverage bras are not always the most stylish option, they can be found in a variety of styles and colors to suit any taste. Whether you need a little extra support or simply want to avoid any wardrobe malfunctions, a full-coverage bra is a great option for any woman.
Full coverage bras provide a more conservative look, with higher necklines and wider straps that offer added protection from spillage or jiggle. This type of bra will have full cups and higher center gores, so they can offer support without making your chest look too big or too small.
Features to consider when deciding between full coverage and full figure bras
When choosing a full-figure bra, it is important to consider the material and construction. Look for styles that feature wide side and back panels to provide a snug fit, as well as underwire or molded cups that offer maximum support. You should also select breathable fabrics that help keep you cool and comfortable.
As for full-coverage bras, choose styles with wide bands and wide straps to ensure they stay in place throughout the day. The fabric should smooth the silhouette under the arms and across the back, too.
Finally, with either choice, make sure the bra fits properly, as it will be the most effective in providing lift and support.
Check out these best-selling full-coverage bras below or skip down to the top full-figure bras.
The most comfortable full-coverage bras
All curvy women know how hard it is to find a comfortable bra. Either the straps are too skinny or the cups sag or the band digs in…well, you know what we mean.
We surveyed readers and went shopping to find the comfiest and supportive full-coverage bras. Here are our favorites:
Bali One Smooth U Underwire Bra
It's shapewear that you won't hate wearing. The Bali One Smooth U Underwire Bra is carefully contoured for smoothing from front to back. Each section is carefully designed to prevent spillage without feeling restrictive.
Moreover, the underwire is cushioned for comfort. But we wish the adjustable straps were wider and padded, too. The hardware is in the back, which isn't convenient, either.
However, the sleek fabric is breathable and won't leave impressions on clingy clothes. And it comes in sizes up to 42DDD.
Warner's Easy Does It Comfort Bra
This bra is a great option for everyday wear, as it is super comfortable and supportive without an underwire. You might even forget you're wearing it.
The bra is made from stretchy fabric that's machine-washable. We like how the cups fully cover the breasts. Plus, it has side-smoothing panels and wide, comfortable straps to help it cozy up to your figure. They don't slide off the shoulders or dig into the skin.
It comes in various colors and sizes up to 3X.
Wacoal Underwire Sports Bra
Here's a full-coverage underwire sports bra for high-impact workouts. The underwire frame keeps breast motion to a minimum. Meanwhile, the cups have a hidden inner sling for extra support in G and H cup sizes.
The moisture-wicking fabric and mesh back help to keep skin dry and comfortable during vigorous exercise. Unfortunately, this is a hand-wash-only bra, so if you exercise daily, maybe it's best to get at least two.
Pro tip: if you can't wash your sports bra after a workout, rinse it and let it air dry before tossing it in the hamper. Then use a phosphate-free lingerie detergent like Woolite to hand-wash it on laundry day. The elastic will last longer and the bra will still look new a few months down the road.
Wacoal Plus-Size Visual Effects Minimizer Bra
If you'd rather contain your curves instead of flaunting them, here's an underwire minimizer bra. It reduces the bust line up to one inch. Now you can button that favorite blouse without it gaping.
The band is lined with soft stretch mesh to provide an added layer of comfort while the leotard back ensures that the straps stay in place no matter what.
We just wish it was machine-washable!
Just My Size Cushioned Strap Minimizer Wire-Free Bra
Go wireless with this level of support and comfort and you'll never go back to underwire bras. This one slims the bust up to one and a half inches. What's impressive is that it doesn't feel repressive.
This unique bra with cushioned straps helps ease shoulder pain caused by heavy breasts. Additionally, the side support panels grant extra shaping and support to restrain spillage and contour curves.
Finally, in a world where we have to pay more for plus sizes, this bra is affordable.
Our only complaint? Does it really need that little bow on the front?
Sexy and comfortable full-figure bras
Because you deserve to look good and feel good at the same time.
Maidenform Comfort Devotion Lace Bra
When you want a little cleavage for a low-cut top, here's an affordable t-shirt bra. It features soft, foam-lined cups and a no-poke underwire. (If you want more curves to show, choose the demi version).
It comes in several beautiful colors and patterns in sizes from 32C to 42D.
Furthermore, it's machine-washable.
Curve Muse Push-Up Underwire Lace Bra
Maximize what you've got with a sexy push-up bra. It adds up to a cup size and a half. Talk about a full figure!
The molded cups are padded for comfort and extra support. What's more, the criss-cross back provides more lift and a secure fit.
We love that it comes in unique colors and patterns. We just wish it wasn't hand-wash only. Still, most underwire bras are.
Pro tip: don't cheat by trying to machine wash your underwire bra in a mesh bag. At a minimum, you need a structured mesh bag with a protective cage. Even then, regular laundry detergent will ruin the elastic. Instead, if you hand-wash with delicate detergent after every couple of wears, you won't need to go bra-shopping again so soon.
Choose from sizes 32B through 48DDD.
Vanity Fair Women's Front Closure Bra
Plunge bras can be challenging to wear when you have a large bust. Things have a way of falling out at the wrong time. But with this brassiere, you'll be secure. It also hooks in the front, making it a cinch to put on and take off.
The satiny 4-way stretch fabric smoothes the sides and back while the lined cups keep the headlights out of sight.
We also love the convertible straps. They let the bra be worn traditional-style, criss-cross for extra support, and halter-style.
Choose from various colors in sizes from 34B to 44DDD.
SPANX Up for Anything Strapless Bra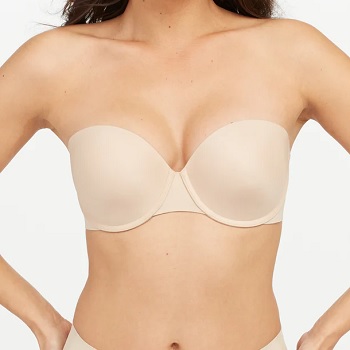 If you have a large bust, can you wear a strapless bra? Yes! This convertible bra goes strapless in an instant. SPANX's Smartgrip technology provides a non-slip grip that will keep your bra in place no matter how much you move.
The memory foam cups mold to your body to create a natural shape and support. At the same time, the cushioned underwire provides lift.
Fans say it's a bit stiff and constrictive while sitting but stunning otherwise.
Choose from sizes 32B to 40DD.
Conclusion
So what does this all mean when it comes to finding the best bra for a large bust? Ultimately, it depends on your preferences.
If you want to smooth your silhouette and have good support, but don't want to add too much volume, then a full-coverage bra is the way to go.
However, if you want good coverage that accentuates your curves, then a full-figure bra is the better option for you.
No matter which type of bra you choose, make sure that it fits properly and gives you as much comfort as possible. You deserve it.