No, as far as history knows, it wasn't a man who invented the brassiere. It was a woman who was dissatisfied with the fit of her corset. However, the contortions required to put on and remove a bra that fastens in the back are a real pain when we're in a hurry. We prefer front-fastening brassieres. And the best zip-front sports bras are the most comfortable for changes before and after workouts.
If you're looking for a front zip bra online, you're in the right place. We reviewed front zipper sports bras for all sizes and types of exercise. We looked at how adjustable they are, how much compression they offer, whether or not they have removable padding, the materials they are made of, and if they maintain a normal-looking bust line or turn the chest into a uni-boob.
Here are some of the features we investigated in the zip-front sports bra reviews below:
Compression – how much the bra prevents the chest from bouncing (and how tight it feels)
Cups – how well the bra shapes and conceals or reveals the breast
Underwire – sometimes helpful for large breasts during high-impact workouts, but also potentially uncomfortable
Straps – how wide, how adjustable, and whether they are typical or racerback style
Band – whether it rides up or digs into the skin
Keep in mind that not all sports bras are created equal. Brands use different models so a B-cup from one company might be the same as an A-cup from another. With that said, let's talk about how to measure so that you get the best bra for your needs.
How to measure for a sports bra
You'll need a fabric measuring tape or a string and a yardstick or metal measuring tape. (You can wrap the string where you need to measure and hold it against the metal tape or yardstick.)
Measure the band size
Remove clothing so that you're not measuring over the top of anything on the skin. Wrap the tape around the torso where the band of the bra would go directly under the breasts. Pull it snug but not tight; keep it level.
Now that you have a number, round it up to the nearest whole number just like you would your taxes – so if it's 32 and a half, it becomes 33.
Here's where things get weird because that's not the final size. No, you need to add 4 inches if it's an even number or 5 inches if it's an odd number. A measurement of 33 inches becomes band size 38.
Measure the bust size
Next, wrap the measuring tape around the fullest part of the breasts right over the nipples. It's okay if it's a little loose. Take that measurement and round up to the nearest whole number. Then subtract the band size from the bust size. What's the difference in inches?
Determine your cup size from the chart below:
| Difference (inches) | 0 | 1 | 2 | 3 | 4 | 5 | 6 | 7 |
| --- | --- | --- | --- | --- | --- | --- | --- | --- |
| Cup size | AA | A | B | C | D | DD | DDD-F | G |
If your band size is 38 and your bust size is 42, you'd have a D cup.
How to go up or down in size for a better fit
As we mentioned, various brands may fit differently from one another and you may need to choose a larger band size with a smaller cup size or vice versa.
Check the size chart for the manufacturer of the bra you want. You could switch from a 38D to a 36E or a 40C depending on the style, fabric, and so forth.
Now that you've had a crash course in finding a zippered sports bra that fits you like a glove, check out our top picks below:
Best Zip Front Sports Bras in 2023
Maidenform Sport Secure Zip Front Underwire Racerback DM7991
We don't love the uni-boob look. Instead, we prefer this shaping sports bra that lifts and separates the breasts. It keeps bounce to a minimum with light to medium compression and motion-control cups. Wear it for yoga, Pilates, biking, lifting, and medium-impact exercises.
It's made of soft nylon and spandex to wick away moisture and provide a supportive fit. What's also nice is the secure zipper closure that keeps the front from opening unexpectedly. The form factor is similar to a regular bra that you might wear for everyday activities – in fact, many reviewers find it comfortable enough to wear all day even with the underwire.
The biggest cons are that it's hand wash only and drip-dry.
Pros:
Soft nylon and spandex sports bra that shapes and supports breasts
Similar form factor to a regular bra
Perfect for medium-impact exercise and daily activities
Secure zipper that won't open unexpectedly
Cons:
Purchase more than one because it can only be washed by hand and can't be tumble dried
Jockey Women's Bras Mid Impact Zip Front Sports Bra
What about a zip-front sports bra for small breasts? This one has pads to enhance their shape, but they can be removed if they feel too hot. Moreover, there's no underwire.
It offers plenty of support for mid-impact activities. But fair warning – Reviewers with large chests found that the zipper tended to come down by itself during vigorous exercise. That's even though there's a hook and eye closure to help support the zipper. At least there's a cloth flap under the zipper to prevent it from pinching the skin.
What's more, the racerback design comes in six colors and all of them are machine-washable and dryable. However, the material is a little stiff as it's 93% nylon and only 7% spandex.
Pros:
Racerback bra with no underwire available in 6 colors and sizes up to XL
Removable padding provides extra shaping
Machine-washable and dryable
Front zipper protects the skin from pinching
Cons:
Vigorous activity may cause the zipper to open if the wearer has a larger chest
ULTIMATE SPORTS BRA High Impact by SHEFIT
We heard that this is the best zip-front sports bra for large breasts. After reviewing it, we totally agree. It fits cup sizes from A to I (up to size 6X). Furthermore, it's adjustable on the fly. Tighten it up for running and loosen it for low-impact activities. The size adjustments include the band as well as the padded shoulder straps. Talk about a personalized fit!
What's more, there's no underwire. It comes with removable cups that camouflage nipples and it's made from a stretchy fabric that somehow still keeps bounce under control.
Lastly, it has a "zipper garage" at both the top and bottom to prevent chafing, pinching, and unplanned opening.
The only downsides are the price and the care instructions. With regards to the cost, we feel it's worth it because this is a very comfortable bra that's made to last, especially if you follow the care instructions. These include hand-washing and laying flat to dry.
Pros:
Comfortable and fully adaptable sports bra for large breasts
Available in sizes up to 6X
Personalized fit with adjustable band and padded straps
Removable cup padding
Excellent motion control with no underwire
Cons:
Pricey but so worth it
Needs to be hand-washed and laid flat to dry
Champion Women's Motion Control Zip Sports Bra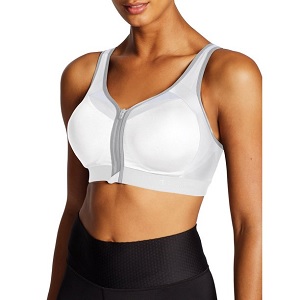 Champion is the champ of affordable exercise clothing so we checked out its zip-front sports bra. It provides support for high-intensity exercise like running with shaped cups and no underwire. It can accommodate sizes 30A to 44DD and has adjustable straps.
Reviewers say it offers an incredible amount of support without feeling heavy or oppressive. The majority of the support comes from the mesh back panel, not the straps, so they don't dig into the shoulders. Plus, the cups separate the breasts and shape them whether they are shallow or deep.
Another thing we noticed is that the sizing is realistic. Instead of guessing whether you're small, medium, or large, you can choose the right size based on your measurements.
Lastly, the machine-washable fabric is designed to dry quickly and feels breathable.
Pros:
Comfortable support during high-intensity exercise
Fits 30A to 44DD sizes
Adjustable straps and molded cups
Quick-drying fabric is machine-washable
Cons:
None unless you prefer a wider color selection
New Balance Seamless MID Impact Zip Front Sport Bra
New Balance's zippered sports bra is also machine-washable. The structure is 93% nylon, 7% spandex and elastane, with removable polyester pads. But unlike Champion's bra, this one is for medium-impact activities like Pilates or hiking.
Truthfully, we prefer Champion's bra because it's affordable, comes in a wider range of sizes, and offers more support. On the bright side, New Balance offers nice colors.
Pros:
Machine-washable
Nice range of colors
Removable pads
Made for medium-impact exercise
Cons:
Kind of an average sports bra – there are better options for the money
Yvette High Impact Running Bra Double Deck Mesh for Plus Size
If you're looking for a plus-size zip-front bra, this one checks all the boxes up to size 48DDD. It's made for medium and high-impact workouts including running. There's a little bit of bounce but it's better than feeling like a stuffed sausage. Furthermore, the double shoulder straps provide lift and never slip off.
Yes, the double-layer design looks a little different but it prevents show-through and offers extra support. The polyamide/elastane blend feels lightweight and can be machine-washed, too.
Pros:
Available in sizes up to 48DDD
Made for medium to high-impact exercise
Lightweight fabric blend is machine-washable
Cons:
Although it's described as suitable for high-intensity exercise, most reviewers agree that it's more like medium support if you have large breasts
WANAYOU Zip Front Sports Bra Wireless Post-Surgery
Bras can be expensive, and the costs add up if you need more than one. That's where cheap zippered bras come in handy. No, this style isn't good for running, but it's great for medium activities like cycling, yoga, and weightlifting.
It comes in different colors and sizes from 30A to 46DD and has removable pads. On the downside, the 92% nylon, 8% spandex fabric needs to be hand-washed and air-dried.
Reviewers who describe themselves as struggling with rolls of fat on the back and sides say that the bra is comfortable and doesn't roll up or bunch.
Pros:
Affordable zippered sports bra for medium-intensity activity
Different colors in sizes from 30A to 46DD
Lightweight and comfortable.
Cons:
Must be hand-washed and air-dried
Conclusion
It's not hard to find a front zip bra online if you know what to look for. We hope that our reviews helped you find the best zippered sports bra today. If you love your new brassiere, feel free to tell us about it in the comments below.