After winter passes and I start wearing fewer layers, I find myself asking the mirror, "How can I hide my belly in leggings?" High-waist yoga pants are a good place to start. But truly, which are the best tummy control leggings and how do I find them?
How to choose the best tummy control leggings
When it comes to comfortable and supportive plus-size leggings, there are several features to consider. Let's start with the way they are made.
Fabric
I prefer soft and stretchy material that isn't see-through. A professional personal stylist named Cassandra Sethi recommends a spandex or elastane blend. If the fabric has at least 2% of either of these materials, it will have give and hug the body. Tummy-control leggings will feel a little tighter or firmer because they provide compression.
Size
Obviously, when you're looking for leggings, they will fit snugly. When I try them on, however, I don't just stand in the changing room, I also sit. I want to feel that they stretch with my body and don't feel too tight.
But if I'm shopping online, I can't tell how they fit. So I take current measurements of my body and consult the size chart. Every manufacturer is a little different, so a 16 from one brand might be a 14 or and 18 somewhere else. That's when it's important to buy from a place that allows exchanges.
Before purchasing leggings, grab your measuring tape. Wrap it around your natural waist (near your belly button) and around your hips at the widest part. Write down those numbers. Then, if you're looking for a specific length, check your inseam by measuring from the crotch down the inside of your leg. For Capri-length, go to the middle of the calf, or down to the ankle for ankle-length.
Speaking of length, if you see leggings described as 7/8-length, they are supposed to stop just above the ankle bone. Otherwise, full-length or "true" leggings go past to the ankle bone.
Lastly, tummy control leggings have a high rise because they smooth the belly. Check to see that the waistband reaches your natural waist or higher. If they don't, your belly may spill over the top.
Style
When it comes to style, leggings are going to hug the body. But high-waisted leggings offer flexibility because they look good with crop tops, T-shirts, and blouses.
What's more, they come in different lengths, colors, and patterns. Some are faux leather, too.
Lastly, remember to check for outer or inner pockets as that may make the pants more convenient for activities outside the home.
How much should tummy control leggings cost?
Let's be honest, you can find 20-dollar pairs of leggings, but how long will they last? If you want a pair that will hold up well even if you wear them all the time, you'll probably end up spending double or triple that. But check out the reviews of the best tummy control leggings below and I'm sure you'll find a deal!
Best Tummy Control Leggings in 2023
Dragon Fit High Waist Yoga Leggings
Speaking of deals, this popular style of high-waisted yoga pants is frequently compared to Lululemon leggings but they are much more affordable. Let's discover why.
To begin with, they are made from 88% polyester and 12% spandex so they are stretchy and quick-drying but not transparent. No wonder they are so comfy as gym leggings. Since they come in thirty colors, at this price, I could have a different pair for every day of the month.
If you look at the seams, you'll see that they are smooth and flat with six lines/four-needle stitching. On the hip, there's a pocket that can hold a typical smartphone. On the inner waistband, there's another pocket where you can stash a credit card or cash.
The high waist is said to provide tummy control, but we found it has a little less compression than Spanx, for example. But still, they feel very comfortable and managed to minimize a muffin top.
I was a little worried about the ankle-length but they seem to hit about right. One reviewer described herself as having short legs didn't have any complaints, either. On the bright side, it's not hard to hem or have someone shorten leggings.
Pros:
Popular and affordable ankle-length leggings available in thirty colors
88% polyester, 12% spandex fits snug and feels stretchy
Inner waistband and outer hip pockets
Cons:
Good tummy control but not as much compression as some options
THE GYM PEOPLE Thick High Waist Yoga Pants
Why do so many brands use skinny models to show off tummy control leggings? You can see that this pair bunches up a bit on a thin person, but the fabric is much more supportive on a curvy person. After all it's 88% polyester and 12% spandex. Plus, the manufacturer has an online returns center for exchanges if the pants don't fit.
Before you get too excited about the nice pricing color selection, there's something you should know. These are hand-wash only and can't be machine-dried, so it's not a bad idea to get at least two pairs.
The stretchy fit includes a high, wide elastic waistband that covers the belly button and hugs the legs, providing a nice amount of support and compression. The fabric is not see-through although it's fast-drying and doesn't chafe, thanks to the interlock seams and gusseted crotch.
Moreover, the leggings have side pockets large enough for a smartphone and an inner pocket big enough for a driver's license, too.
As for fit, one reviewer said the medium was perfect for her 5'6" 157 lbs-frame. She was pleased that the waist really "sucked in her gut".
Pros:
Stretchy and supportive polyester-spandex blend with interlock seams to prevent chafing
Two large side pockets and one smaller inner pocket
Brand makes it easy to do exchanges
Cons:
Hard to complain when you can make it easy exchanges to find the right size
Athleta Salutation Stash Pocket II 7/8 Tight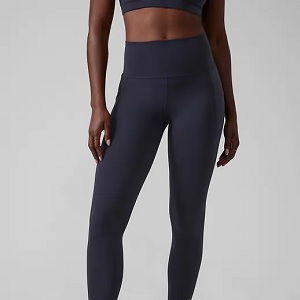 Why is everyone talking about these tummy control stretch pants? Dare I say that it's because they're perfect for plus-size women? They're designed for yoga, but there's no reason you can't enjoy them for everyday wear. After all, they have side pockets for the necessary stuff of life.
The leggings feature a patented fabric blend called Powervita. The material is described as "buttery soft" and I can't disagree. It hugs and flatters every curve and wicks away sweat.
Furthermore, the fabric provides protection against sunburn – it's rated UPF 50+. And when you're done with your day, you can toss the pants in the wash because they are machine-washable and dryable.
Pros:
Patented Powervita fabric is smooth, supportive, and quick-drying
Plus sizes flatter curves and include side pockets
Provides UPF 50+ UV protection for outdoor adventures
Cons:
Not cheap, but worth every penny
CROSS1946 Women Scrunch Butt Yoga Leggings
Lift and flaunt that booty with these sexy leggings. The ruched back is designed to emphasize curves but provides plenty of stretch and freedom of movement.
The satiny fabric is 92% polyester, 8% spandex for smooth tummy control and excellent moisture-wicking. Happily, these are machine-washable leggings.
On the downside, the largest size is XL. On the bright side, they come in lots of colors and patterns and they definitely aren't see-through.
Pros:
Ruched back design and supportive material emphasize curves and flatten the tummy without limiting movement
Machine-washable 8% spandex, 92% polyester fabric
Lots of patterns and colors
Cons:
SPANX Look at Me Now Seamless Leggings
No review of tummy control leggings would be complete without mentioning SPANX. These happen to be sleek faux leather (which makes them hand-wash only). They come in regular and plus sizes and the brand has a comprehensive size chart to help you pick.
As you might imagine, the leggings smooth the tummy with a Power Waistband and perk up the bottom, too. The overall shaping from the medium-firm compression flatters curves and minimizes jiggling.
Reviewers say they are easy to pull on (unlike some shapewear). The main con is that the thick material is too hot for summer unless you'll be in air-conditioning.
Pros:
Tummy control leggings with a Power Waistband and medium-firm compression
Sleek faux leather compliments curves and is easy to pull on
Available in plus sizes
Cons:
A bit warm for summer
Not machine-washable
Beyond Yoga Women's Spacedye Capri Leggings
I love these capri leggings because they are made of a super-soft Lycra-polyester blend. Yes, Lycra is another name for spandex, and these pants are machine-washable and dryable.
Moreover, they come in sizes from XXS to XXL with a nine and three-quarter-inch rise, giving them a high waist with tummy support. The waistline makes them go perfect with crop tops.
But what exactly is "spacedye"? It turns out that it's a speckled blend of charcoal and black, so the pants don't quite match black tops. Still, they look great with pretty much any other color.
Pros:
Thick and super-soft Lycra-polyester blend is machine-washable and dryable
High waist with tummy support
Sizes down to XXS
Cons:
90 Degree By Reflex Power Flex Leggings
If you've heard about 90 degree high waist tummy control leggings, they are made by a brand called Reflex. These affordable sport pants are machine-washable and inexpensive. They are made from 87% nylon, 13% spandex, and the fabric feels pretty thick and durable – it's just not very soft. But it's not see-through and doesn't pill much.
The leggings have a four and a half-inch high waistband that slims the tummy. Meanwhile, they also tone the legs for a streamlined fit. There's even a hidden pocket inside.
They come in a wide range of colors and seem true to size for most reviewers. Finally, the brand offers a thirty-day money-back guarantee.
Pros:
High waist slims the tummy and snug fit tones the legs
Machine-washable 87% nylon, 13% spandex fabric
Hidden inner pocket
Wide range of colors
Come with a thirty-day money-back guarantee
Cons:
Fabric isn't as soft as some options but it's machine-washable
Conclusion
Anyone will look good in tummy control leggings. They are surprisingly comfortable and appropriate for all sorts of activities from exercise to everyday wear.
I hope these reviews helped you find your new favorite leggings today. If so, please tell us about them in the comments below.