Is it really a choice between more support or more freedom? In the war of bras vs. bralettes, which style is best for your boobs?
The answer starts with the shape and size of your breasts. It also has to do with how much support you want, what you'll be wearing over top (if anything), and what level of comfort you desire.
Hold on, don't get overwhelmed yet. Everything will be clear in a moment. We'll be discussing bras versus bralettes: which style is best for your boobs.
Here's a quick overview of different breast shapes. Which one is yours?
Round — Breasts are full at both the top and bottom.
Teardrop — Round breasts where the bottoms are slightly wider than the tops
Bell — Full at the bottom and slim at the top
East/West — A clear division between the two breasts with the nipples pointing to opposite sides
Side set — An even larger space between the two breasts like East/West but with nipples pointing forward
Narrow — Thin breasts with the nipples pointing down, longer than they are wide
Asymmetrical — One breast is noticeably larger than the other (surprisingly common)
As you might imagine, the style of bra that you wear can enhance or diminish your bust. Certain designs look best on different shapes.
For example, if you have wide-set breasts, you may prefer a balconette or cage bra to gather them together.
Or if you have narrow, teardrop, or bell-shaped boobs, a push-up bra makes them look fuller.
Here's a list of different bra types: what's in your closet?
T-shirt bra
Sports bra
Convertible or strapless bra
Bralette
Push-up bra
Sleeping bra
Plunge bra
Backless
Strapless
Tube bra or bandeau
Underwire
Wireless
Demi bra
Balconette
Sweetheart
Halter
Racerback
Padded
As you see, there are many different bra styles. It's not just bras versus bralettes.
What is a bra?
In general, a bra is considered to be more supportive than a bralette. It's a true support garment with an adjustable band, adjustable straps, and molded cups that may be padded. It lifts and shapes the breasts no matter which style you select. The size depends on both cup and band measurements.
Here's an excellent example of a bra:
Playtex 18-Hour Wire-Free Bra
Playtex is a brand name known for affordable bras with a comfortable fit. The 18-hour bra is our favorite because it's one of the few brassieres that we can forget we're wearing.
For one, there's no underwire. The lift and support are achieved with wide, adjustable straps, adjustable band, and molded cups that conceal and lift. It offers full coverage that also smooths the sides and back of the body.
The stretchy, smooth fabric is tagless and soft against the skin. The front closure might be hook and eye, but it's not as hard to latch as most other bras we've tried.
Yes, it looks kind of like your grandmother's bra. There aren't a lot of colors and it's not designed for sex appeal. Instead, if you want support and comfort, this is a smart choice.
The only downside is that it's hand wash only and must be air dried.
What is a bralette?
A bralette is less structured than a bra. It's usually not padded and normally wouldn't have an underwire. It tends to be stretchier and lighter than a traditional bra. Also, it's often designed to be seen or even used as a top by itself. Therefore, it's likely to be more colorful and lacey. Sizes might depend on cup and band measurements or simply be marked with a size designation like small or extra-large.
Here's an iconic bralette:
DKNY Cut-Out Lace Bralette
This adorable bralette is available in lots of colors in sizes from small to extra large. Instead of being a pullover bra, it has a hook and eye closure in the back as well as adjustable straps. This allows for a better fit. As you know, cup sizes can change over the course of the month.
The cute, lacy fabric is a nylon/spandex blend with just enough coverage and light support. It's comfortable in hot weather and quite pretty under a sheer blouse.
Of course, something this delicate is hand-wash only.
Are bralettes better for your boobs?
Bralettes might be better for your boobs if you prefer more freedom and less restriction. However, if you want support, they aren't the best choice.
Both bras and bralettes can either add to or reduce under-boob sweat, so that's not the problem. What matters is bounce.
If your girls are heavy, we suggest sticking to bras. But if you have your heart set on a bralette, try something like this:
TheMogan Cross Strap Crochet Lace Bralette
Can you wear a bralette as a top? This one is ready for the club.
It comes in sizes from small to 3X. Although it doesn't have an adjustable band (because you pull it on), it has four adjustable straps that criss-cross in the back. It's those straps that make it more supportive for a large bust.
Moreover, the padded cups provide good coverage while still revealing a bit of cleavage. Although the design is lacey, it's lined with cotton and doesn't feel itchy.
Happily, it's machine-washable. On the downside, it runs a little small, so plan on ordering a size larger.
Why are bralettes more comfortable than bras?
Aha, this is a deceptive question. It's tempting to think that because bralettes are usually lightweight and less restrictive that they are more comfortable. But if what you really need is support to keep the babies from bouncing, a bralette is not going to be comfortable, unless it's a sports bra.
Heathyoga High Impact Sports Bra
It's not a question of bralette vs. sports bra. Instead, it's a bralette that's also a sports bra. This one is capable of supporting a full figure during exercise. It provides good coverage and high support with wide shoulder straps and a racerback design.
The fabric is a moisture-wicking blend of nylon and spandex with a breathable mesh layer. The knit panels smooth the silhouette. Meanwhile, the cups are lightly padded so that the sports bra can be worn by itself or underneath clothing.
Are bralettes good for large breasts?
Honestly, bralettes are only good for large breasts if you need one for sleeping. They rarely come in sizes that accommodate full figures. It's also uncommon to find one with enough support for D cup and above.
Should I wear a bra or bralette?
This chart may help you decide whether to wear a bra or bralette:
| Advantages of a bra | Advantages of a bralette |
| --- | --- |
| Can boost and reshape breasts | Can serve as a top |
| Superior lift | Wide range of designs and colors |
| Wide range of sizes | Lightweight and non-restrictive |
| True support garment | Little to no padding; unmolded |
| Wide range of styles including convertible | Usually no underwire |
Why you should wear bralettes?
If you hate underwires or padding, shop for a bralette. If you want more colors and design choices, same.
Bralettes aren't as structured and stiff as a traditional bra. They are less likely to pinch, constrict, itch, poke, or chafe.
They may also be more breathable which cuts down on under-boob sweat.
Are bralettes good for small breasts?
You guessed it – bralettes complement a small bust. No, they might not act like a push-up bra. Instead, their strength is in looking good without faking it.
Take a look at the cute bralette below.
Jockey Matte & Shine Seamfree Bralette
It's so comfortable you could wear it to bed. It comes in a lovely selection of colors, too. But its strength lies in its ability to fit well without gaping. Even on small breasts, it enhances and shapes.
What's more, it has adjustable straps and no side seams to make you itchy. Even the stretchy microfiber fabric is machine-washable and dryable.
What's not to love? It's only sad if you need a size larger than 2X.
Does wearing a bralette cause sagging?
The good news is that wearing a bralette will not cause sagging, at least not long-term. In the short term, a bralette may not provide enough support. But breasts sag because of hormonal changes, weight gain, age, and genetics. Wearing or not wearing a bra doesn't lead to breasts drooping.
Is it better to wear a bra or bralette in the summer?
This isn't a trick question, is it? If you're worried about under-boob sweat, a bralette is the solution.
A lined bralette can double as a crop top, cutting down on the number of layers you need to wear.
Also, a bralette is usually stretchier and accommodating of breast size changes. (Your cup size likely goes up or down depending on the time of the month).
How to choose the perfect bra or a bralette
If you want the most flattering and comfortable support garment, you need to measure your band size and cup size. Don't go off an old bra because your size may have changed or the manufacturer may have updated its design.
After that, go look in the mirror. What is your breast shape? (See the list at the beginning of this article). Don't waste time being critical – it is what it is and you can work with it.
Now, look at your old bras. Put them on if you need to in order to remember what you hate about them. Is it that the straps slide off or dig in? Is it that the cups are wrinkled or that you're spilling out somewhere? These are issues that happen when you have the wrong size or when the elastic is failing. It might also be the style of bra – maybe you'd do better with a t-shirt bra instead of a balconette.
Last, think about the effect you want to create. Do you want more cleavage or lift? Do you want more coverage or support?
Lucky for you, there are all sorts of bra styles out there. You don't have to settle for something that you hate wearing.
Which is better for sleeping: bra or bralette?
If you've just had surgery, it might be best to wear a bra for sleeping. Consult with your doctor for recommendations.
Otherwise, if you just want a little support and coverage, try a bralette like the one below:
Hanes String Bralette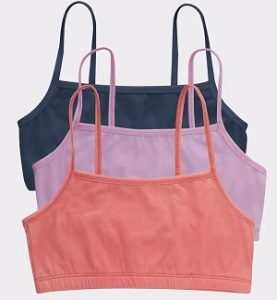 It comes in a 3-pack which is good because it's hand-wash only. What was Hanes thinking?
This light and stretchy bralette is cool and comfortable. It's mostly cotton with a hint of spandex. It was designed for low-impact activities like yoga as well as lounging. It's thick enough to use as a crop top and thin enough to wear as a bra.
Reviewers say it's got a decent amount of support but is best for C cup or lower.
But don't despair. There are also wireless bras like this one:
Vanity Fair Full Figure Beauty Back Smoothing Bra
First, it's machine-washable and there's no underwire.
Second, the 4-way stretch fabric slims bulges around the underarms and back without pinching. It moves with the body naturally.
Furthermore, it's possible to adjust the band with the hook and eye closure as well as the straps.
Choose from a variety of colors and enjoy the pleasant blend of freedom and support. Although it doesn't double as a top as a bralette can, it's so comfortable!
Conclusion
It doesn't have to be a choice between bras and bralettes. Most likely, you can find either style in your size. What matters more are the fit and the feel. Are you comfortable? Does it look as good as you hoped? Will it give you the benefits (lift, support) you desire?
We hope our article answered your questions and helped you find what you need today. Feel free to leave us a comment below.