At the start of summer, people are asking things like, "How can I hide my belly in a bathing suit?"
It's normal – a lot of us want to know which bathing suits are the most slimming. Should we wear a one-piece or can we get away with a bikini? What swimsuit is best for a muffin top?
In the end, you can get what you need with the best swimsuits for tummy control. This category covers a wide variety of styles with one thing in common. They make your midsection look slimmer so that you can feel confident and sexy.
What are swimsuits with tummy control?
Tummy control doesn't necessarily mean a shapewear swimsuit. There are other features that also make a curvy figure look more slender.
For instance, ruching or ruched fabric where the material is scrunched creates the illusion of a slimmer belly. Ruffles and flounces do the same. A tie at the waist may provide a little tummy control, too.
Diagonal seams and decorations are flattering as are swimsuits that are patterned on the top and plain on the bottom. They draw the eye away from the middle.
How to pick the most flattering swimsuit
The first challenge is finding a swimsuit that fits and feels comfy. It's best to take your measurements before shopping.
Measure around the fullest part of the bust and immediately underneath it.
Wrap the tape around your natural waistline just above your navel.
Measure the widest part of your hips.
Some swimwear brands recommend measuring the torso diagonally from the shoulder, over the breast, and down to the crotch.
These numbers will help you choose the best bathing suit and hopefully keep you from having to make returns.
Next, if you have a large chest, look for a swimsuit with an underwire or sufficient support including adjustable straps. If the upper part is supported, it keeps the body from turning into a uni-belly.
If you have athletic thighs, be sure that the leg openings will feel comfortable. Either a swimdress or swimsuit with boyshort legs might do the trick (and cuts down on hair removal).
Lastly, think about color. Peach, green, and white look good on a person with olive skin or warm undertones whereas blues and reds are attractive on cool undertones. Of course, black is slimming.
Check out the best swimsuits for tummy control below:
Best Swimsuits for Tummy Control in 2023
Hilor Front Crossover Swimsuit
According to thousands of happy reviewers, this is one of the best slimming swimsuits. Let's look at the reasons why.
First, the crossover strap design grabs attention right away. It distracts from the tummy control mesh panel in the midsection. It's described as "hollow out swimwear" with a see-through design that's a lot less transparent than you'd expect.
Second, the pattern creates the optical illusion of a slimmer figure. Still, it accentuates other curves for a flattering appearance.
Third, the elastic shoulder straps and removable bra cups support the bust while the full-coverage bottom prevents cheek peeks and wedgies. All the while, the elastic waistband keeps the middle under control.
We love the fact that the swimsuit comes in a wide range of patterns, colors, and sizes. You can get it in sizes 4 through 16. The only downside is that it's hand-wash only.
Pros:
Mesh tummy control panel with elastic waistband slims the midsection
Elastic crossover straps have an attention-grabbing design
Provides bust support with a full-coverage rear
Available in sizes 4 through 16 in a wide selection of colors and patterns
Cons:
CUPSHE Strappy Criss-Cross Plus-Size Swimsuit
Swimsuits that draw attention away from the midsection provide a type of tummy control without squeezing the body or restricting movements. It may be just an illusion, but it's a flattering one.
One glance at this criss-cross strap swimsuit we show you what we mean. It has adjustable shoulder straps and removable padded cups for plenty of breast support. Reviewers say the style prevents drooping and side boobs.
But it's not all glamour. This swimsuit is quite practical as it's machine-washable as long as you use the delicate cycle.
It's available in five plus sizes from 14W to 30W (large to 4XL).
Pros:
Specifically designed to flatter a curvy figure
Removable padded cups and adjustable straps
Machine-washable
Cons:
If you don't wear a plus size, you're out of luck
Angerella Women Vintage Polka Dot High-Waisted Bikini Set
Does a two-piece tummy control swimsuit actually exist or is it a pipe dream? Check out this bikini and see for yourself.
Although this swimwear brand makes the suit in a lot of different colors and patterns, we like the vintage polka dot style. That's because the dot pattern on the top draws the eye while the plain dark bottoms do their work quietly.
The top provides excellent bust support with underwires and adjustable halter straps. There's even a hook and eye closure just like a bra.
Meanwhile, the bottoms have a high waist with ruched fabric that minimizes the tummy. They're perfect if you have a mommy belly, stretch marks, or a muffin top.
Both tops and bottoms are available in sizes up to XXL or a 45-inch waistline. The silky fabric is a quick-drying blend of nylon and spandex. Be sure to hand-wash it and it will last for years.
Pros:
2-piece tummy control swimsuit available in many patterns and colors
Excellent bust support with adjustable hook and eye closure, adjustable halter straps, and underwires
Ruched bottoms with a high waist
In sizes up to XXL
Cons:
Zando Womens Swimsuits Tummy Control Swim Dress
We love swim dresses because they are flattering, comfortable, and (let's be practical) they reduce the need for hair removal. This swim dress comes in sizes 2 through 22.
The upper part has a push-up bra with removable pads and adjustable straps. The floral design attracts attention away from the midsection. It also has a classy yet sexy reveal in the yoke.
The lower part consists of boyshorts under a high-waisted miniskirt. The design has a slimming effect.
Pros:
Available in sizes 2 through 22
Supportive push-up bra with removable padding and adjustable straps
Boyshorts under a slimming, high-waisted miniskirt design
Cons:
Shapermint Women Ruched High-Waisted Bikini Bottom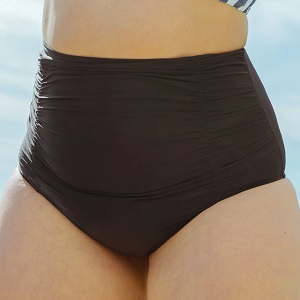 If you are holding out for a shapewear swimsuit, pause here. This bathing suit bottom provides light tummy control with a high waist and a shaping panel at the front. At the same time, the ruched fabric enhances the slimming effect. It also has a full-coverage behind.
Keep in mind that these are bottoms only – you'll need to choose a matching top separately. It shouldn't be hard as the classic black color matches pretty much everything.
The bottoms come in sizes small to 4XL. For your convenience, they are machine-washable but should be air-dried.
Pros:
Shapewear swimsuit bottom with light tummy control
Full-coverage behind and ruched fabric is flattering and slimming
Available in sizes small to 4XL
Machine-washable
Cons:
Machine-washable, but should be air-dried
Top is sold separately
Miraclesuit Helix Tummy Control Underwire One-Piece Swimsuit
How about a swimsuit with bust support and tummy control? This one has an apt brand name: Miraclesuit. It promises to (visually) take off 10 pounds in 10 seconds.
The fabric is a smooth and soft nylon-spandex blend that must be hand-washed and hung to dry. But the maintenance is worth it because of the comfort and performance.
The swimsuit has a fashionable keyhole back while the openings at the bottom give the illusion of longer, thinner legs. At the same time, the underwire bra uplifts the bust while the midsection slims the torso. However, there is no compression – the tummy control design is a visual effect only.
To get the right size, you'll need to measure the bust, natural waistline, hips, and torso. Sadly, the suit is only available in sizes 8-14.
Pros:
Comfortable and visually slimming swimsuit
Underwire breast support
Slenderizing effect without uncomfortable compression
Cons:
Must be hand-washed and air-dried
Yonique Plus-Size One-Piece Swimsuit Tummy Control
Finally, here's a bathing suit that doesn't need a cover-up. This vintage-style swimsuit has a lace-up closure and adjustable shoulder straps to help it fit just right. The criss-cross back and push-up bra offer comfortable support – but feel free to remove the padding.
It doesn't fit tight across the tummy, yet it has ruching to make the belly look slimmer. This is good news for those who don't want to struggle into their swimsuit or feel like their gut is being squashed. The bathing suit doesn't ride up or down, either.
It comes in sizes from medium (12W) through 22W in a handful of slimming colors. Be sure to rinse out pool or salt water as soon as possible and hand-wash it to keep it in top condition.
Pros:
Slimming effect without compression
Adaptable fit with adjustable shoulder straps and a lace-up closure
Criss-cross back and push-up bra with removable pads
Good selection of plus sizes
Cons:
Must be hand-washed
Plus sizes only
Fancyskin High-Waisted Ruffled Top Tummy Control Bathing Suit
Reviewers say this two-piece swimsuit is true to size. It's a flattering tankini for women who want to feel confident with their curves.
The flouncy top has a racerback design and removable padding for good support. Then, the high-waisted bottom offers just the right amount of tummy control. Both the top and bottom come in sizes small through XXL in a variety of cheerful colors.
The only con is that it's hand-wash only.
Pros:
Slimming tankini with tummy control
Colorful racerback top with flounce
High-waisted bottom
Available in sizes small through XXL in a variety of colors
Cons:
Hand-wash only in cold water
Conclusion
Go ahead, soak up the sun and enjoy the water. Don't put off your summertime fun because you're worried about how you look. The best swimsuits for tummy control inspire confidence with a slimmer appearance and a comfortable fit.
We hope our reviews helped you find your new favorite swimsuit today. If you're happy with it, we'd love to get your feedback. Feel free to leave us a comment below.