What type of swimsuit is best for a large bust? That answer's easy – you'll want one of the best underwire one-piece swimsuits. It'll save you the trouble of trying to attach an underwire bra to a bathing suit.
You'll probably run across swimsuits for big busts with removable padding, but those are more hassle than they're worth. The pads wiggle out of place, make the swimsuit look lumpy, and tend to fall apart after repeated washing. No, the best swimsuits for sagging breasts have underwires.
If you haven't been a fan of underwires up until now, let's see if we can change your mind.
How does an underwire help?
We hated underwires until we found out how to fit and wear them properly. First off, the wire should lay flat across the breastbone and embrace the underside of the breast so that it doesn't poke you under the arms. We can't even tell you how many times we had to deal with twisted, pokey wires jabbing us where they weren't wanted.
Next, the underwire acts as a fulcrum to uplift the breast and shape it. It takes a load off the straps which alleviates pressure on the shoulders. The effect works best when combined with a full-coverage cup.
So, the next time you hesitate to purchase an underwire bra or swimsuit, don't. The wire is there to make you more comfortable and keep your girls uplifted, separated, and supported.
How to choose the best underwire one-piece swimsuit
Congratulations, you've already decided on a one-piece bathing suit with an underwire. You may also have a color in mind. But what about the fabric?
Most swimsuits consist of one or all of these synthetic fabrics: nylon, spandex, and polyester. They dry quickly, conform to the body, and come in a nearly infinite range of colors.
Nylon is sleek and durable, able to endure repeated wash cycles. But it's not springy like spandex (AKA elastane), the material that hugs your body and bounces back after it's stretched. The new and improved version of spandex, Lycra, stretches up to seven times its normal length without losing its resilience.
Lastly, polyester is impressively durable and colorfast, able to retain a new-like appearance even after repeated exposure to sun and water.
The best advice before buying a swimsuit
We have two pieces of advice before we send you shopping. First, take your measurements right now so that there's no guesswork and you don't need to make as many returns.
Second, purchase from places that allow you to make exchanges in case you don't love the color or fit. We want you to be happy with your new swimsuit and anxious to show it off.
And now, for your viewing pleasure, the best one-piece bathing suits with an underwire:
Best Underwire One-Piece Swimsuits in 2023
Miraclesuit Women's Swimwear Oceanus Underwire Bra One-Piece Swimsuit
Dark colors are minimizing, as are vertical stripes. But ruching is fashion's secret weapon for a flattering appearance.
Take this simple yet gorgeous swimsuit, for example. Ruched fabric is gathered over the bust and belly, breaking up the profile and drawing the eye diagonally to make you look taller. Reviewers say the shirred waistline gives them a more pleasing figure at the same time it supports their bust.
The underwire supports the breasts and works in conjunction with the adjustable straps for a perfect fit. Meanwhile, the patented Miratex fabric (a blend of nylon and Lycra) shapes and smooths. No wonder this brand claims that the swimsuit will make you "look 10 pounds lighter in 10 seconds".
To get the best fit, measure across the fullest part of the bust, around the waist above the belly button, and across the hips about four inches below the belly button. Finally, measure the torso diagonally between the legs to the top of the shoulder.
The bathing suit comes in solid colors in sizes from 10 through 18. It's hand-wash only.
Pros:
Slimming swimsuit with ruched fabric and shirred waistline
Underwire and adjustable straps for comfort and control
Nylon/Lycra blend shapes and smoothes
Available in various colors and sizes from 10 through 18
Cons:
Miraclesuit Women's Swimwear It's a Wrap Underwire Bra One-Piece Swimsuit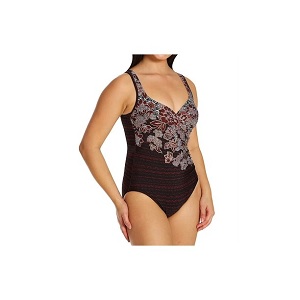 How about tummy control and an underwire? Here's a modest yet sexy swimsuit designed to make you feel confident and comfortable. The ruched front and eye-catching pattern of the fabric draws attention to all the best curves.
It's made with Miratex, a nylon/Lycra blend that slims and smoothes the body. The cut and draped fabric is designed to give you an hourglass shape.
Meanwhile, the underwire, padded straps, and foam cups shape, lift, and support. The only downside is that the straps are not adjustable. (You'll have to alter them by sewing if they are too long).
Choose from several different patterns and colors in sizes 8 through 16.
Pros:
Underwire with soft foam cups and padded straps
Ruched fabric and wrap style give the body an hourglass shape
Smoothing, slimming fabric in stunning patterns
Available in sizes 8 through 16
Cons:
Hand-wash only
Straps are not adjustable
Coco Contours Solitaire Bra Underwire One-Piece Swimsuit
This swimsuit was designed from the get-go for busty women. It comes in sizes based on bust measurements, specifically 32C to 40D.
The big attraction here is twofold. First, the suit has a special two-layer Shapemaker lining that contours the body. Not only does it slim the midsection, but it also lifts the bottom. The ruched front is also flattering.
Next, the V-neck with wide straps and hidden underwire supports the entire breast with full coverage. That's right, there's no side spillage.
Choose from five solid colors, all of which are hand-wash only.
Pros:
V-neck with wide straps and underwire bra top with full coverage
Slimming Shapemaker lining smoothes and lifts
Available in 5 colors for sizes from 32C to 40D
Cons:
La Blanca Women's Standard Island Goddess Underwire Mio Swimsuit
This one-piece bathing suit has both an underwire and removable cups. But the plunging neckline is flirty and doesn't offer much coverage on the sides or front. On the bright side, you'll be able to tan those parts that rarely see the sun, including your bottom as a swimsuit offers only moderate coverage there.
The stretchy microfiber fabric is a nylon/elastane blend that smoothes dimples and offers a little tummy control. You can tighten the tie in the back and adjust the straps for a perfect fit. At the same time, the front shirring and twist front highlights the assets.
Choose from a variety of colors in sizes from 4 through 16.
Pros:
Plunging V-neck and a twist wrap front with removable cups and an underwire
Adjustable straps and tie
Smoothing microfiber fabric with light tummy control
Available in various colors in sizes from 4 through 16
Cons:
Lands' End Women's Carmela Underwire Slendersuit
If you prefer swimwear that will last for more than one season, Lands' End makes some of the best one-piece swimsuits. They are made from Slendertex and Lycra Xtra Life spandex, nifty materials that resist wear and tear and provide UPF 50 sun protection. Moreover, they provide tummy control with a slenderizing effect.
Reviewers say this suit is slimming and comfortable. It has excellent support for the bust with crisscross straps and an underwire. The upper part has a draped overlay which calls attention to your chest while shirring along the waist complements a curvy figure.
Although there are only a few colors available, the suits come in sizes from 8 to 18.
Pros:
Features UPF 50 sun protection and chlorine-resistant fabric
Slendertex material has a slenderizing effect
Crisscross straps and an underwire uplift the bust
Sizes from 8 to 18
Cons:
Fantasie Women's Anguilla Underwire Deep Plunge One-Piece Swimsuit
The cut is simple: a plunging front and scoop back with moderate coverage at the rear. We might not have even pulled this swimsuit off the rack if it hadn't been for the fun tropical print. It turns out there's a lot more going on underneath the surface and it was definitely worth a second look.
For one, the cups have underwires but they aren't obvious from the outside. The lightly ruched fabric gathers completely disguises them.
After that, the straps are thin but they are adjustable, making the suit just that much more comfortable. Plus, there's even a tummy-slimming panel in the front.
Oddly, the care instructions suggest rinsing the suit in cold water after use but hand-washing it in warm.
Pros:
Underwire with adjustable straps and gathers at the bust
Tummy control panel
Gorgeous tropical print
Sizes from small to 5X
Cons:
MakeMeChic Floral Criss-Cross Underwire One-Piece Bathing Suit
Let your passion out with this stunning swimsuit. It's all eyes on you.
The upper has crisscross straps and a deep V-neck with a push-up bra and underwire. Not to worry, it's designed for plus sizes. The size chart ranges from XL to 4XL.
Then, there's a wide band around the waist made of the same fabric as the shoulder straps. It cinches and minimizes so that the focus can move on to the high-cut legs. The tropical print is the icing on the cake. If you want a suit that says va-voom, this is it, baby.
Pros:
Stunning swimsuit made for curvy women
Sizes from XL to 4XL
Wide crisscross straps with an underwire, high-cut legs
Flattering and sexy
Cons:
Angerella Vintage Halter Swimsuit Monokini One-Piece Swimwear
We couldn't have described it better than one reviewer who said this was a retro pinup bathing suit. But it's definitely not old school. The pretty polka dots are vintage but the design is modern.
The suit has a halter top with adjustable ties, plus an underwire and removable inserts. The sweetheart neckline and gathered bodice are a perfect complement.
The waistline is perfectly capable of hiding a mommy pouch while still giving you an hourglass figure. Although the legs are high-cut, the bottom has full coverage for comfort and freedom.
Pros:
Retro-style swimsuit with a halter tie, underwire, and removable inserts
Sweetheart neckline, gathered bodice, and full coverage bottom with high-cut legs
Sizes from small to XXL
Cons:
Of course, it's hand-wash only
Conclusion
Stop worrying about sagging and spilling. A swimsuit with an underwire will solve the problem. We hope our reviews of the best bathing suits helped you find your new favorite swimwear today. If so, we'd love to hear about it. Feel free to leave us a comment below.