Believe it or not, bras are not supposed to be uncomfortable. Are you searching for "why does my bra hurt my ribs?" Then something needs to change and soon.
Let's go over answers to the most common questions our readers are asking about why bras cause pain.
Why do I have pain under my bra line?
There are several reasons why wearing a bra feels painful. To begin with, the band or straps may be too tight. It could be putting pressure on the muscles, nerves, and blood vessels. This amount of pressure doesn't just cause temporary discomfort. The problem can spread to numbness in the hands and arms, breathing issues, and headaches.
Put the bra on the loosest hook and lengthen the straps. How does it feel? You should be able to slip a finger underneath the band and the straps shouldn't be digging into the skin. The breasts shouldn't be spilling out of the cups or sides, either.
If adjustments aren't fixing it, try a bra extender. This is a small bit of fabric with hooks and eyes just like a bra closure. Hook it onto the band on either side (whichever feels more comfortable). This will give you a little more wiggle room around the ribs.
Here's an example that comes in different sizes and colors to match what you have:
Wingslove Bra Extender
You can save a lot of money with a bra extender. This little rectangular piece of nylon has hooks and eyes just like a bra. Attach it to either side and use it to lengthen the band another inch or two.
However, if you're struggling with an underwire bra, it might not be just a problem with the band. Keep reading for more solutions.
Why does my bra rub on my ribs?
A well-fitted bra should move like a second skin with your body. It shouldn't dig, pinch, restrict, or rub on the ribs or the shoulders.
Unfortunately, not everyone has a properly fitted brassiere. Sometimes the bands chafe or roll up. Worse, underwires poke in the armpits and put pressure on the chest.
If your bra is rubbing you the wrong way, don't put up with it. Take the time to adjust it even if it means an extra couple of minutes every time you put it on.
How to put on a bra so that it fits better
Start by loosening the straps a little. As you slide your arms through them, do the swoop and scoop to gather the boobs into the cups. This is leaning forward and letting gravity help situate the breasts as you stand.
Fasten the band on the loosest setting and raise the straps. Before you do anything else, reach inside the cup and lift each breast to help it settle and fill the cup.
Now, check the band. Can you fit a finger underneath it? Should it be tightened or is it already too tight? If it's too tight, use a bra extender (see above).
Finally, adjust the straps. They should be tight enough to maintain tension on the cups and to keep them from sliding off your shoulders. However, they shouldn't leave deep indentations on your skin
Yes, it's a pain if you have to take off the bra to adjust the straps in the back. But it's worth it to be comfortable. If it's a bra that no one will ever see, you could mark where the adjuster should go. Use a fabric or permanent marker to put a little dot.
How to tell if the bra fits right
Now, look in the mirror. Is the band level? Is it flaring or rolling up? If so, the elastic may be shot and you might need a new bra.
If you're wearing an underwire, does it sit flat against your sternum? It shouldn't dig in or poke out. If the wires are causing problems, you could remove them or replace them.
Examine the cups. They should cradle and uplift the breast tissue without spillage on the top or sides. The cups should be smooth and not saggy or wrinkly.
Can bras cause chest pain?
Do you have tenderness around the bra line? It could be tight bra syndrome, also known as costoclavicular syndrome. If your brassiere is causing back, neck, rib, or shoulder pain, it's time for a change.
Sometimes adjustments aren't enough to relieve the discomfort. Maybe you need a new style of bra altogether.
Look for a wide band and wide shoulder straps that better distribute the pressure. Here's one option:
Calvin Klein Invisibles Comfort Seamless V-Neck Bralette
Back fat makes bras fit poorly. But this bralette smooths under the arms and across the back. More importantly, it feels like almost wearing nothing at all. The difference is that it provides just enough support.
There's no underwire but there is removable padding in the cups. If you want to minimize your headlights and want a little extra lift, leave the padding. Happily, there's no hardware to cause trouble.
Does it roll up in the front? Some reviewers say yes – it depends on the shape of the belly. On the bright side, the smooth, soft microfiber feels nice on the skin. It has a seamless finish and clean-cut edges that disappear under clothing.
Wearing an ill-fitting bra is bad for the health
It's a Catch-22. If you have large breasts, going bra-less might cause you pain. Not only may it lead to worse posture and backaches, but it may also aggravate stretch marks (1).
But sadly, wearing a bra that doesn't fit properly can also cause health problems. One study interviewed women seeking breast reduction surgery. Almost all of them were wearing a badly-fitted bra (2).
Reasons why your bra might not fit right anymore
Obviously, if you become pregnant or have given birth recently, your bra size has changed. The same is true if you've gained or lost a few pounds.
Having your period can make your breasts swell. It can also make your rib cage more sensitive.
What's the solution? After all, bras can only be adjusted just so far. You might need to switch to a larger size or a different style. If your old bra is putting too much pressure on your ribs and shoulders, get one with wider straps and a wider band. You might even consider a longline bra like the one below.
Annette Women's Longline Recovery-Sleep Bra
It's not sexy but it's comfortable. This front-closure bra was designed for post-op recovery after breast surgery. It's also cozy for sleeping and good for low-impact exercise.
The one thing it shouldn't do is hurt your ribs. Note that it runs small so it's best if you measure and then go up a size. On the bright side, it's machine-washable.
What's the best bra for rib pain?
The best bra for rib pain would be one that doesn't put pressure on the ribs. It's definitely not an underwire.
A longline bra looks like a crop top. Instead of stopping just below the breasts like a typical bra, it stretches longer. But any brassiere or bralette with a wider-than-usual band should be helpful. Skip the underwires, too.
Hanes SmoothTec ComfortFlex Wirefree Bra MHG796
"Wireless" and "seamless" are good words to hear when you're bra shopping. They automatically mean "more comfortable". There aren't any tags here, either.
What's more, this bra is made of 4-way stretch fabric that's lightweight and breathable. Say goodbye to underboob sweat. It's even machine-washable.
Choose from a nice selection of colors in sizes from small to 3X.
Is your bra uncomfortable when sitting?
The traditional way of measuring for a bra means wrapping a measuring tape around your ribs under your breasts and then over the top of the breasts at the thickest part. Normally, this would happen while you're standing still. But life doesn't stand still.
In the real world, our bras have to move with us. That's why there is a handy online calculator called A Bra That Fits. It asks you to take your measurements in different positions and then enter those values to get the most accurate fit possible.
What is a costochondritis bra?
When a bra hurts the ribs, it could be costochondritis. This is a medical condition where the person has pain in the ribs and breastbone. It takes time to heal, and the less pressure you put on those areas, the better.
Under Armour Seamless Low Impact Long Bra
This isn't an official costochondritis bra, but we've heard good things about it. It's longer and that distributes pressure better than a narrow band.
It has a pull-on design but the straps are adjustable. They cross the back for better support. There are also removable pads in the cups.
Since this is technically a sports bra, it's engineered with ventilated mesh on the hotspots. It's also machine-washable. Choose among various colors in sizes from extra small to 3X.
Have you heard about sister sizing?
It's frustrating to find a bra that you really like but it just doesn't fit right. That's when sister sizing might come in handy.
This means going down a band size and up a cup size or up a band size and down a cup size. That might be all it takes to get the right fit.
Can sports bras damage ribs?
Why does my bra hurt my sides? Do you know who asks that question a lot? People who wear sports bras.
It's not that a sports bra can damage ribs, at least not like a corset. But it can definitely injure the muscles and possibly the nerves and blood vessels around the rib cage.
Here's a shout-out to all busty women who just can't find a supportive enough sports bra. The struggle is real. Use the example below to inspire you in your search:
TASADA V-Neck Sports Bra
Before you get too excited, this crop top sports bra only comes in sizes from small to XXL (38 D or 40 C).
(Don't despair, there are options from Reebok, Nike, Champion, and Knix that are all made for large busts. This article is focusing on rib pain from bras, so we wanted to show you models that don't put pressure on the chest).
This is a longline sports bra with sleek moisture-wicking fabric that one reviewer compares to Lululemon. The only con is that it's hand-wash only.
Can not wearing a bra cause rib pain?
We've not heard of rib pain being caused by going bra-less. It's more likely that a person would experience breast pain or back pain from not having the support.
If you are experiencing rib pain, it's best to get medical attention. Not to frighten you, but rib pain could be a symptom of costochondritis, a lung infection, injured ribs, or a heart attack.
If you need to protect yourself against rib pain, a well-fitted bra with a wide band might help.
Warner's Easy Does It Dig-Free Band
Warners is known for its comfortable bras. This one is no exception. It comes in sizes from small to 3XL but only a few colors.
The nylon/elastane material is seamless and soft. It has just the right amount of stretch.
Moreover, the wide band stays put without pinching. And the convertible straps adjust in the front. That's right, you can unhook them and crisscross them for more support.
Under Armour Seamless Low Impact Long Bra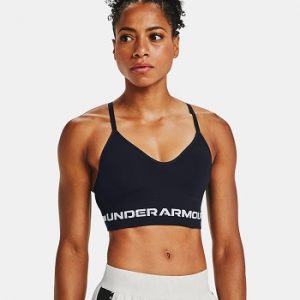 Here's another long bra that doubles as a workout top. It pulls on so there's no hook and eye closure or skinny band to press on your ribs. Instead, you get a wide jacquard band to keep things in place. There are also removable cup pads and adjustable straps.
It comes in a variety of colors from extra small to 3X. It's designed for low-impact activities.
Conclusion
We hope we answered your questions about how bras may cause pain and what to do about it. Don't put up with being uncomfortable.
Try making adjustments or using a bra extender. Upgrade to a better bra. Do what you need to do to put a smile back on that lovely face.
Sources:
1. https://www.port.ac.uk/news-events-and-blogs/blogs/health-and-wellbeing/wearing-an-illfitting-bra-isnt-just-uncomfortable-its-bad-for-your-health WEARING AN ILL-FITTING BRA ISN'T JUST UNCOMFORTABLE, IT'S BAD FOR YOUR HEALTH by Professor Joanna Wakefield-Scurr, published 15 August 2018
2. https://pubmed.ncbi.nlm.nih.gov/12859918/ Greenbaum AR, Heslop T, Morris J, Dunn KW. An investigation of the suitability of bra fit in women referred for reduction mammaplasty. Br J Plast Surg. 2003 Apr;56(3):230-6. doi: 10.1016/s0007-1226(03)00122-x. PMID: 12859918.
The best bra size calculator https://www.abrathatfits.org/calculator.php