Did you know that you might have a different cup size depending on the time of the month? The change in seasons can affect your body, too. If you're shopping online and you want the perfect fit, you need to know how to measure your bra size at home.
No, it's not good enough to go off the size of your old bra. Here are the reasons why:
The old bra might have stretched out or shrunk.
It could be a different brand or style so the fit will be different.
The manufacturer may have updated the design since the last time you went bra shopping.
Your body may have changed if you gained or lost weight or built up muscle.
However, if you're desperate, and the store has a good return policy, you might get away with using an old bra to help you guess what size you need now.
In the meantime, let's talk about the best way to measure bra size at home.
What you need to measure for a bra
If you have a measuring tape, you're all set. Specifically, you need a fabric measuring tape like the ones used for sewing that are soft and flexible but not stretchy.
Here's a good example:
SINGER 50003 ProSeries Retractable Tape Measure, 96-Inch
This is the ideal measuring tape to get the right bra size. It's 8 feet long which makes it useful for lots of things you might need to measure.
It's made of durable, flexible vinyl, with inches on one side and centimeters on the other. It retracts into a case that you can hang on a key ring.
Otherwise, if you have the metal measuring tape used for construction, you might still be able to wrap it around your body, but it's not going to be as accurate. Instead, find a piece of string or a cable that's not stretchy. Use the string to measure and hold it against the metal measuring tape to get the numbers. More on that in a minute.
Now, back to how to use the measuring tape to get your bra size.
The foolproof method for measuring bra size
Here's how the pros do it (1).
Get your band size:
Start by removing your top and your bra.
Wrap the tape around your ribcage just under the bust. It helps to have a mirror to check that the tape is level.
Don't pull it too tight—you need to be able to fit a finger under the tape.
Round up to the nearest number.
Pause here because now it gets tricky.
Check the manufacturer's guidelines to see if they have a "plus four rule". Some brands ask you to add 4 if the band measurement is an even number and 5 if the band measurement is an odd number. For example, if you measured 33 inches, you'd add 5, and end up with 38.
Otherwise, this first number is your band size.
How to get your cup size:
Now it's time to measure your bust. If you have a C cup or larger breasts, lean forward by bending at the waist.
Wrap the tape over the nipples and around your back. Use the mirror to make sure you're measuring the fullest part.
Take that number and subtract the band size. For instance, if you measured 40 and your band size was 36, the difference is 4. That means you have a D cup because it's a 4-inch difference.
Here are the specific cup sizes: (2)
Less than 1-inch difference between the bust measurement and the band size = AA
1 inch = A
2 inches = B
3 inches = C
4 inches = D
5 inches = DD
6 inches = DDD
7 inches = DDDD/F
8 inches = G/H
9 inches = I/J
10 inches = J
Once you put the band size in front of the cup letter, you have your bra size.
How to tell if your bra fits correctly
Put on your bra and look in the mirror.
First, check the band. How does it feel? Can you put a finger underneath? It should be snug but not tight.
Second, look at the sides and the back. Are you spilling over anywhere? If there's an underwire, is the end aimed at the middle of your armpit?
Third, are the straps sliding off or digging into your shoulders?
Fourth, is the part of the bra between the cups sitting flat on the chest? This is called the gore and it shouldn't be digging in or twisting up.
Fifth, does your bust fill the cups or spill out? On the other hand, are the cups too big and the material wrinkled?
Basically, what you want are a comfortable fit and a smooth silhouette.
Sister sizes to the rescue
Even though you've chosen a bra in the right size according to your measurements, it may not fit as you hoped. Worse, maybe the manufacturer doesn't offer the size you need in the style you want. It might be time to try a sister size instead.
If the bra is too tight, increase the band size by 2 numbers. If you're a 34 D, look for a 36. Then size down one cup to a C. Go try on the 36 C and see if it suits you.
If the bra is too loose, decrease the band size by 2 but go up by one cup size. So a 34 D would become a 32 E.
How to choose the right bra for different shapes of breasts
Some of us have shallow breasts that don't project much. In that case, plunge styles won't look right. But demi-cup and balconette bras will suit you much better.
Others of us have pendulous breasts and we need more coverage. Underwires aren't always the best solution but look for well-separated cups if you don't want to have a uniboob.
How to put a bra on correctly to get the best fit
Scoop and swoop. Put your arms through the straps and lean forward to scoop your breasts into the cups. You can also reach inside the cup and give yourself a lift to settle everything into place.
Fasten the band and adjust the straps. How does it feel?
What can you use to measure bra size if you don't have a measuring tape?
Going off your old bra isn't the best option, but if that's the only thing you have, put it on and let's give it a try.
Is it too tight or too loose?
Do you spill out of the cups or overflow under your armpits or on your back? Or does the bra sag because it's too big even when tightly adjusted?
At least you have a starting point now. But things might go better if you have any sort of measuring tape.
For example, no lie, I've used a USB cable to measure myself. I wrapped it around and it used my finger to mark the place while I held the cable against a yardstick. It's not as good as a fabric measuring tape, but it's flexible and not stretchy. Plus, I had something with a known size to compare it against.
You can also take string or yarn and measure yourself and then hold it against something with known measurements, like a piece of printer paper (that's 8.5 x 11-inches). You might also use an American dollar bill which is 6 inches long. Here's an interesting topic: How many dollars would it take to go around your bust?
Examples of different types of bras
Sometimes you just need a ballpark figure and sometimes you need exact measurements. If you just want a bra to sleep in or lounge around the house, try something like this.
Hanes Women's ComfortFlex Fit Bralette
This cotton pullover bra comes in a wide range of sizes and a decent assortment of colors. It's perfect for use as a sleeping bra as it manages the girls without restricting them. The stretchy, breathable fabric is pretty soft and it lets sweat evaporate quickly.
The wide straps don't dig into the shoulders and the band tends to stay in place as long as you don't try to do aerobics. No, this isn't a sports bra by any means – it doesn't provide anywhere near enough support.
Since it looks a lot like a cropped tank top, it's handy for summertime. (And it's machine-washable).
But if you want real support, check out the next bra.
Playtex Women's Wireless Bra
This is the famous 18-hour bra with no underwire. I love this design. It's completely possible to forget you're even wearing a bra if you have the right fit.
The fabric is 90% nylon and 10% spandex. Therefore, it's hand-wash only and it gets a little sweaty on humid days. However, it's pretty soft and not itchy.
The full-coverage cups, back, and sides keep everything in place to smooth the silhouette. The adjustable straps are nice and wide and that's great news for women with fuller breasts. They don't dig into the shoulders.
If you prefer something that looks a little less utilitarian, try the next brassiere below.
Smart & Sexy Women's Signature Lace Push-up Bra
This bra lifts and shapes with padded cups and underwires. It's a little stiffer than the Playtex bra as it's 94% nylon and only 6% spandex. (Yes, hand wash only).
The design is very lacey and has a pretty jewel and bow on the gore front and center. Plus, you can choose from a pleasing variety of colors.
One of the biggest benefits is the strap design. The straps can be positioned traditionally or worn halter-style or crossed in the back.
Of course, you might also want to try a strapless bra.
Maidenform Women's Love The Lift Demi Strapless Multiway Bra 09417
I know, it says strapless, but it comes with straps. What gives?
The straps are optional and removable on this sweetheart bra. The underwire and padding alone is enough to keep the girls afloat. Moreover, the foam lining prevents the headlight effect. There are also soft silicone bits to grip the skin and hold everything in place.
Still, if you want to use the straps, the bra ends up being even more versatile. It can be worn with one strap, halter-style, cross-back, or the traditional way.
Surprisingly, the sleek fabric is quite stretchy at 64% nylon and 36% elastane (yes, hand-wash only). The only downside is that the bra is available in just a handful of neutral colors.
DotVol Women's Front Closure Wirefree Jacquard Back Support Posture Bra
It's hard to find attractive front-closure bras. This one is a full-figure brassiere and it's pretty to look at even if it only comes in neutral colors.
The design features an X-shape that corrects the posture and smooths bulges. It really takes the weight off the back, shoulders, and neck. The full coverage cups and underwires keep everything supported and under control.
The fabric is a blend of polyamide and spandex which is unexpectedly breathable compared to nylon. It's not scratchy but soft. And no, if you want it to last, you shouldn't toss it in the machine. Wash it by hand using the tips below.
How to make your new bra last longer
You already know that you should hand wash delicates like bras. But it's not just the physical stress and wear and tear from the washing machine's spin cycle that damages them. It's also the detergent.
If you want the elastic in your bra to last longer, you need to use the right soap. Commercial detergents destroy elastic and synthetic fabrics over time. Even liquid fabric softener can damage them.
Spend a few bucks to buy detergent made for delicates and the investment will be worth it. You won't have to replace your bras as often.
Woolite Delicates Hypoallergenic Liquid Laundry Detergent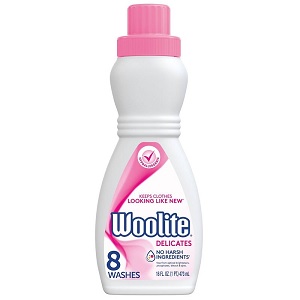 This detergent works as advertised and it smells nice. It doesn't damage clothes or wreck your skin if you use it for handwashing bras. That's because it doesn't contain phosphates, enzymes, or bleach of any kind.
You can use it for polyester, nylon, silk, wool, cashmere, and cotton. It won't fade or shrink or stretch the elastic. That means you can use it in the machine as it's compatible with regular and HE washers.
After all the money you're spending on bras, it's only a few dollars more to keep them looking and fitting like new.
Sources:
1. https://www.buzzfeed.com/allievolpe/how-to-measure-your-bra-size-at-home How to Measure Your Bra Size at Home, the Right Way Let's get you fitted, shall we? by Allie Volpe
2. https://www.wikihow.com/Measure-Your-Bra-Size How to Measure Your Bra Size, Co-authored by Kpoene Kofi-Bruce, Last Updated: August 23, 2022