How do I know what running shoes are best? It's not about the brand, but what's right for you. There are different types of running shoes like road running, trail running, and cross-training.
Moreover, running shoes are engineered differently for various needs. For example, there are neutral, motion control, and stability running shoes, too.
Keep reading to find out how to choose the best running shoes.
What are 3 factors to consider when buying running shoes?
Before you purchase new shoes for jogging or running, consider these questions:
Where will you be running?
What are your gait and running style?
Do you have any issues like overpronation, supination, arthritis, bunions, etc.?
Let's look at the first question: where you'll be running. The type of surface makes a big difference in what you'll need. For trail running, you need traction, which means an outsole with deeper tread. For road running on asphalt or concrete, you might prefer more cushioning than if you're running on a track indoors. And cross trainers can make good running shoes but not for long distances.
Then, while most runners are heel strikers, some of us like barefoot runners are forefoot strikers. The style greatly affects the gait. Furthermore, each style needs a different type of footwear.
Heel strikers will appreciate more cushioning with a larger drop between the heel and the front of the foot. Meanwhile, forefoot strikers tend to prefer zero-drop shoes.
Lastly, did you know that running shoes can compensate if you roll your feet in or out? Let's talk more about that.
What are the 3 types of running shoes?
Most runners' feet roll a bit inward when they land. This is basic pronation. Pick up a pair of shoes you've had for a few months and look at the soles. Where are they worn?
If the rubber is worn down on the ball of the foot and on the heel, that's typical.
However, some runners supinate (or underpronate), which means their feet roll outward too far. The bottoms of their trainers will be more worn on the outer edges.
Meanwhile, others overpronate, which means their feet roll inward too much. They will have more wear and tear along the inner edge of the sole.
These are the reasons why there are 3 styles of running shoes.
Style number one is neutral. It's what runners who don't overpronate or supinate wear. It's perfect for those with medium arches as well. The majority of running shoes are neutral.
People who supinate and have high arches can also benefit from neutral running shoes.
Next, there are stability shoes for runners with flat or low arches and mild to moderate overpronation. The cushioning and support features help minimize overpronation and reduce fatigue and the risk of injury.
Lastly, there are motion control running shoes for excessive pronation of either kind (in or out). They have extra support to stabilize the foot.
How do you know which type of running shoe you need? Take a look again at those old running shoes. Compare the wear pattern to the description above.
Now, check your arches. The easiest way is to step in water and then step on a piece of paper or a surface where you can see your footprint (like concrete).
If you can clearly see the toes, forefoot, side of the foot, and heel with an open space for the arch, you probably have medium arches. Neutral running shoes should be perfect for you if you have normal pronation.
However, if you can barely see the band on the side or not at all – just the heel and forefoot, you probably have high arches and may have a more rigid foot. Try neutral running shoes with extra cushioning.
If you have flat feet, the footprint will not have a defined arc. Instead, it will be toes and a blob. That means you likely have flexible arches that are likely to overpronate. Look into motion control or stability running shoes.
How to choose the best running shoes for your needs
Once you know where you'll be running the most and understand your feet's needs with regard to pronation and arches, it's time to dig into the details of shoe construction.
The parts of the shoe that matter
Stiffer soles are good for trail running and more cushioning is better for road running. A tread with lugs will help you grip muddy trails and a non-marking outsole is crucial for use in the gym.
The interior isn't just cushioning and arch support. It should also provide ventilation and moisture-wicking and help keep the foot stable. If you have custom-made orthotics, you'll want to get shoes with removable insoles.
Look at the heel cup or counter in combination with the ankle collar. It can make or break your experience. If it grips and stabilizes, it will be much more comfortable than a shoe that slides up and down. However, make sure it doesn't restrict your freedom of movement.
Consider the saddle of the shoe where the arch and the top of the foot are. Does it secure the foot without slipping or does it create too much pressure?
Finally, wiggle your toes in the toe box. Are they cramped or free to flex and spread? When it's laced up, you should have a thumb's width of space between the longest toe and the front of the shoe.
3 ways to avoid getting the wrong running shoes
Don't you hate it when you have to make exchanges? It's such a hassle. Use these 3 tips to make shoe shopping easier.
Measure your feet at the end of the day when they are more swollen. Don't use an old pair to guess your current size. Manufacturers update styles and sizes vary from brand to brand. It only takes a minute to stand on a measuring tape and double-check.
Don't get shoes that are too small. What you need is security and stability, not a close fit. Leave yourself about half an inch in the toebox so you have wiggle room.
Try shoes on with the socks you'll be wearing with them. Measure your feet with those same socks, too.
Here are reviews of the best running shoes to help you find what you need.
Best running shoes
New Balance Fresh Foam 680 V7 Running Shoe
Let's start with the best running shoes for beginners who overpronate. New Balance also offers these shoes in wide widths. And since they have a removable insert, they work well for runners with custom orthotics.
Is there a difference between the men's and women's versions? With this brand, yes, they use different lasts or molds. Therefore, if you have a more narrow foot, the women's model might be best for you. If you have wide feet, try the men's or the wide version.
Why are these a good choice for beginning runners? First, they are affordable so hopefully, you won't feel guilty if you start slacking off running and end up using them for day-to-day wear.
Next, they feature the Fresh Foam midsole for a lovely amount of cushioning combined with a molded insert for pronation support. The combination makes for a supportive but soft feel.
Plus, the mesh upper is seamless to prevent chafing. It's also very breatheable and comes in a nice selection of colors.
adidas Supernova + Running Shoe
The Supernova + is available in men's and women's sizes. They were specially developed for beginner runners who are building up muscle and stamina.
The midsole features outstanding cushioning to absorb impacts and return energy. Just as impressive, these high-performance shoes are made with at least 50% recycled content. The design is part of the brand's efforts to end plastic waste.
ASICS Gel-Excite 9 Running Shoes
Asics running shoes are a godsend for casual runners (and walkers) with issues like flat feet and knee problems. Instead of a curved rocker bottom like those on HOKA ONE shoes, ASICS have flat soles for stability.
Moreover, this model has the AmpliFoam midsole and GEL technology for outstanding shock absorption. There's also a plush tongue and collar for extra comfort.
Nike Air Zoom Pegasus 39
Out of all the Nike running shoes, we like the Pegasus series. The brand is now selling the 39th iteration—good evidence that this is a successful style. It's available in men's, women's, and children's sizes.
(If you want to save a little money, look for the Pegasus 38. There are only four differences between 38 and 39. The newest addition to the lineup weighs less, has a wider toebox, more padding in the tongue, and will put more spring in your step. It has two Zoom Air units instead of only one).
The Pegasus models have Nike's patented React foam in the midsole. It provides lots of cushioning without adding weight. But since the shoe has a flexible sole, it's best for road running, not trail running.
Brooks Glycerin 19 Women's Neutral Running Shoe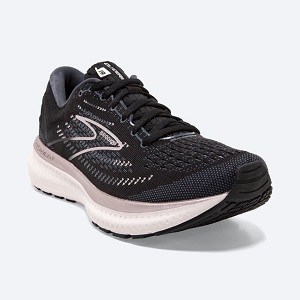 Brooks makes some of the best running shoes for women and men. We've heard people call them "the most comfortable shoes on earth". Not only are they supremely cushioned, but they are also very supportive. They even hold the APMA Seal of Acceptance as a diabetic shoe.
The official advertisement describes the shoes as "plush" and we agree. The upper has a stretch bootie that moves naturally with the foot. It smooths motion and keeps the foot secure as it rolls forward from heel strike to push-off. The 10-millimeter drop between the heel and the front of the shoe pushes your body forward with each stride.
These are neutral shoes for road running and cross-training. If you need stability shoes for motion control, look at the Glycerin GTS 19 instead. Both styles come in a wide range of colors.
Also, check out Brooks' other styles like the Ghost 14 for added support and energy return.
Brooks Ghost 14 Neutral Running Shoe
Why is the Ghost 14 among the best running shoes for men? Ask the pros who train in them for hundreds of miles. It's a blend of a secure, smooth ride with lots of energy return.
Furthermore, the DNA Loft cushioning in the men's shoe is tailored to a guy's needs when running. They call it "gender-friendly" but what they mean is it's made for a bigger, heavier, runner.
The model comes in various colors. Each one has a well-ventilated mesh upper made with 3D printing technology. What's more, even though you'll love the plush foam insole, you can pull it out and replace it with something else.
HOKA ONE ONE Womens Rincon 3
HOKA has a reputation for making the Cadillacs of the running shoe world. They are extra-cushioned and pricey but have a diehard fan following.
We selected the Rincon 3 because it has better groundfeel than its siblings. By that, we mean that the cushioning isn't as mushy because the sole is a little firmer. The shoe is also quite stable with a wide cut -out in the crash pad underneath the heel. It feels lightweight yet very good at shock-absorbing.
If you compare the Rincon 3 to the earlier edition (Rincon 2), Hoka has made crucial improvements. For one, they've made the outsole more durable and grippy. Second, they've added toe room. And third, now you can get this model in wide widths.
There are two things to consider, however. If you have a narrow heel, the shoe may feel sloppy. Also, the skinny tongue sometimes slides out of place.
Conclusion
In summary, it's not hard to choose the best running shoes if you take a little time to consider your needs. Think about where you'll be running the most and whether you have issues like overpronation or high arches. That will help you choose the right style and type of sneaker.
Next, measure your feet at the end of the day to get a more accurate size. Leave yourself some wiggle room at the toe but make sure the shoe doesn't slip on the heel.
Last, shop at a place that allows exchanges if you can't go try on the shoes in person.
We hope we helped you find your new favorite running shoes today. Enjoy!