Yoga has been practiced for centuries. During most of that time, yoga shorts didn't exist. But now they do, and I'm glad.
The best yoga shorts for women are more than just fashion. They allow freedom of movement and wick away sweat. They are perfect for vinyasa or power yoga and pleasant for Iyengar.
Moreover, women's yoga shorts come in all sorts of materials and styles. Check out the reviews below to find the best yoga shorts for you. Chop
In the meantime, here are some tips for choosing workout clothing.
What are the best yoga shorts?
What material should yoga shorts be made from? That is a crucial question right now. At the moment, we recommend natural materials over synthetics. Here's why.
Toxins in activewear
Investigators recently published a report about toxic forever chemicals found in popular yoga pants, tops, and sports bras. The activewear came from brands like Lululemon, Yogalicious, Nike, and LulaRoe (1).
They tested for fluorine, an indicator of PFAS. It can be absorbed through the skin, just like BPA, which is also found in activewear. Why are manufacturers including these toxins in their products? After all, the fabric is right against sweaty skin and poses a risk to the health of the wearer.
The chemicals likely come from treatments used to boost stain and water resistance and improve moisture-wicking. They may also result from lubricants and detergents used to clean the machines that produce the fabric.
On the bright side, most of the activewear they tested was toxin-free. If you want to be certain, choose OEKOtex-certified fabrics, unbleached cotton, and other natural materials. Or you can go with brands that did not test positive for PFAS.
For example, you'll see that we included yoga shorts from 90 Degrees by Reflex, Sweaty Betty, and Under Armour in the reviews below.
What are the best shorts for yoga?
Are biker shorts good for yoga? Sure! Cycling shorts are comfortable and allow you to stretch freely and move vigorously.
Seamless yoga shorts are nice because they don't chafe. Hot yoga shorts move sweat away from your skin and dry quickly.
There are even high-waisted yoga shorts with pockets that tuck in your tummy and let you bring a key to the gym locker.
Depending on the type of yoga you'll be doing, yoga shorts with side pockets might be uncomfortable if you stuff them with your smartphone or other bulky items. But you can take those things out and lay them aside during class.
How to get the right size yoga shorts
Don't go off an old pair of shorts or leggings even if it's the same brand that you want to buy again. Measure yourself around the waist just below the belly button and around the hips at the widest part. You might also measure the inseam from the crotch down to the knee depending on how long you want the shorts to be. Now you're ready to go shopping.
Here's a preview of the best yoga shorts for women:
Best Yoga Shorts for Women in 2022
Reebok Women's Natural Dye Bike Shorts
They may be listed as bike shorts, but these are also cotton yoga shorts. They come in neutral and pastel shades that are made with natural earth dyes. Just as important, the cotton comes from sustainable cotton farms that minimize their impact on the environment.
The jersey cotton is blended with elastane so the shorts are form-fitting and stretchy. They are machine-washable and dryable, too.
The high-rise elastic waist doesn't roll over and stays put during the eye of the needle pose.
They are available in sizes from XXS to XL.
Pros:
Made with sustainable cotton and natural earth dyes
Form-fitting and stretchy with elastane
High-rise elastic waist
Machine-washable and dryable
Pastel and neutral shades in sizes from XXS to XL
Cons:
Cotton takes a while to dry
Hanes Women's Stretch Jersey Bike Shorts
Here's the problem: you're excited to start doing yoga but reluctant to spend a lot of money on accessories. That's where budget bike shorts like these are the perfect yoga shorts.
Although they are form-fitting, they are thick enough to not be see-through. The soft cotton/polyester/spandex blend is stretchy and comfortable and easy to care for. You can toss them in the washer and dryer right after class.
You may love them so much that you wear them all the time, too. Although there aren't a lot of colors to choose from, you can pair them with a pretty top.
Pros:
Affordable yoga shorts that aren't see-through
Cotton/polyester/spandex fabric is soft and stretchy
Machine-washable and dryable
Cons:
Not many colors available
Jockey Women's Activewear Bike Short
These have a short inseam and hug the body, making them nice to wear on a hot day. There's a moisture-wicking gusset liner to keep you cooler down under.
Some women love them for hot yoga. Others wear them for sleeping. At any rate, they are inexpensive and can be machine-washed and tumble-dried.
Pros:
Form-fitting shorts with a waistband that stays put during intense activity
Moisture-wicking gusset liner
Machine-washable and dryable
Cons:
The smaller the size, the shorter the inseam
Under Armour Women's HeatGear Armour Mid Rise Middy
We're leaving the cotton yoga shorts behind and moving on to synthetic fabric. Not to worry, this brand's HeatGear activewear didn't test positive for PFAS. It just goes to show you that there's no need for toxins in your sports gear.
The fabric is a lightweight polyester/elastane blend in a special weave. It draws moisture away from the skin and dries rapidly. The 4-way stretch feature means that it moves in every direction with you without binding. The seams also have flatlock stitching to prevent chafing. That's essential since the shorts provide a second-skin fit with compression.
Happily, the shorts are machine-washable. (Pro tip: if your yoga clothes stink after you wash them, try using activewear detergent made for synthetics.)
Pros:
Lightweight, moisture-wicking, rapid-drying fabric
Has 4-way stretch and fits like a second skin
Flatlock stitching prevents chafing
Machine-washable
Cons:
Not everyone will love the tight fit
Sweaty Betty Womens Power 6″ Biker Shorts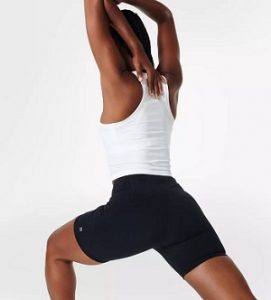 It's great to have pockets like these! The shorts have pockets on either side and a zippered pocket on the back. It's so nice to have a place for a phone, card, lip gloss, and keys. But don't put anything moisture-sensitive in these pockets if you'll be sweating during yoga. At least the sweat-wicking fabric drives really fast.
Even though the polyamide/elastane fabric provides a close fit, there is a drawstring at the waist. The material feels very soft and supportive – it even helps sculpt the body.
Women enjoy wearing these shorts for everything from yoga to Pilates and running. They come in various colors in sizes from XXS to XXL. Fortunately, they are machine-washable in warm – just use a gentle cycle.
Pros:
Soft and stretchy polyamide/elastane fabric sculpts and supports
Wicks away sweat and dries fast
Pockets on either side and a zippered pocket in the rear
Drawstring waist
Machine-washable
Available in various colors in sizes XXS to XXL
Cons:
90 Degree By Reflex High Waist Power Flex Yoga Shorts
What good is tummy control? High-waisted yoga shorts that provide compression could improve your range of movement. If there are stretches you haven't been able to complete, these shorts may help you with your floor work.
They are made of a nylon/spandex blend called Power Flex. It's sleek and soft yet exceptionally durable, able to stand up to frequent washings (in the machine!).
The fabric feels nice and thick and isn't see-through. The shorts have a gusseted crotch and interlock seams to protect against chafing. Plus, there is a hidden pocket in the waistband.
Don't let the price tag put you off. These long-wearing, comfortable yoga shorts also come with a 30-day money-back guarantee.
Pros:
Sleek, soft, and stretchy Power Flex fabric
Moves with the body and provides light compression
Gusseted crotch with interlock seams
Hidden waistband pocket
Machine-washable
30-day money-back guarantee
Cons:
Don't go off an old pair of yoga shorts – measure your current size before ordering to get the best fit
Nike Women's Pro 5″ Training Short
We love Dri-FIT fabric because it's super lightweight and dries in a flash. It's hard to beat these Dri-FIT shorts that feel like a second skin.
What is this magic material? It's a polyester/spandex blend made with 50% recycled polyester fibers. Pro athletes wear it all the time. It's durable and machine-washable.
FYI, these are women's shorts designed for curves. Check out the curved seams that follow the lines of the body. There's also a wide elastic waistband for core support.
There's only one downside. At the time of writing, they were only available in black or gray.
Pros:
High waistband for core support
Shorts feel like a second skin
Dri-FIT polyester/spandex blend with recycled polyester fibers
Wick away moisture and dry rapidly
Durable and machine-washable
Cons:
TomTiger Yoga Shorts
We're not fans of camel toes. This unfortunate side effect of tight-fitting athletic wear kept our editor from wearing leggings for some years.
The solution is the unique U-shaped gusset in the crotch of these yoga shorts. Since the fabric isn't see-through and there's no front seam in the crotch, there's no camel toe.
The fabric is a nylon/spandex blend that feels "buttery soft" like Lululemon leggings. (Sadly, many of the yoga pants that tested positive for fluorine were described as "buttery soft", so we're not sure that these are non-toxic.) This material rarely shows sweat stains and feels breathable.
Happily, the shorts come in a wide range of colors in sizes from XS to XL. Each pair has a fun laser-drilled pattern to make them even more stylish.
Pros:
Not see-through and no camel toe
Buttery soft fabric is a nylon/spandex blend
Wide selection of colors
Cons:
Lighter colors may reveal cellulite because of the close fit of the fabric
Conclusion
We hope our reviews of the top women's yoga shorts helped you find your new favorite pair today. Be sure to check back soon to see new reviews as we investigate the best activewear on the market.
Source:
1. https://www.ehn.org/pfas-clothing-2656435785.html Investigation finds evidence of PFAS in workout and yoga pants, by EHN Staff, published January 20, 2022