The right running apparel makes all the difference when it comes to comfort and performance. We went in search of the best women's running shirts to help you find what you need today.
How do you know which is the best running top? Check out our reviews below to see how we rated them based on breathability, comfort, versatility, and how fast they dry.
Features of the best running shirts
Let's look at the features to consider when shopping for running apparel.
There are three types of fit when it comes to running shirts. One is relaxed and loose, the next offers a close fit, and the third provides compression. Competitive runners often choose running shirts with compression or a close fit for a streamlined profile and performance benefits. Casual runners may do the same or opt for a looser-fitting shirt that's better for odor control and air circulation.
In any case, watch out for chafing. This is the skin irritation that happens when a seam or material itself repeatedly rubs against the body. It can be worse if the running shirt is wet, which is why pro runners don't run in cotton T-shirts that soak up moisture.
Besides fit, there are also different styles of running tops. The main categories include long sleeve, short-sleeved, and tank tops. Long-sleeved shirts may offer solar protection or extra warmth in cold weather.
Meanwhile, tank tops come in different versions like the racerback. They're popular because they offer more freedom of movement for the arms and more airflow to dry perspiration.
In any case, modern running shirts are typically made from technical fabric instead of traditional cotton or polyester. If you run outdoors in all seasons, you'll probably end up with running shirts made from different fabrics to match the weather. Some like Dri-Fit are excellent at wicking away sweat while weighing next to nothing.
Lastly, you might also consider reflective stripes if you run at dawn or twilight. Also, a pocket might be handy for your key, card, or phone.
Check out the best women's running shirts below:
Best Women's Running Shirts in 2023
Women's Racerback Workout Tank Top with Built-in Bra
Let's begin by reviewing a women's running top with built-in bra. Pull it on and you're ready to go. It's close-fitting to move like a second skin as you run.
What's the built-in bra like? Well, there's no underwire, but there is removable padding. It lifts from underneath like a shelf, giving the typical sports bra uniboob effect. Sadly, runners say that it's not enough support for large breasts. Also, the padding may be too wide for women with narrow chests. We consider it a work in progress – perhaps the next iteration will turn out better.
Otherwise, this is an attractive, close-fitted running top. We like the crossover hem and racerback style. Moreover, the polyamide/spandex fabric is soft, lightweight, and quick-drying. It's available in a wide range of colors and sizes from small to extra large.
Pros:
Close-fitted running top with stylish crossover hem
Fast-drying, soft fabric
Wireless support so you can go bra-free
Sizes from small to extra large in a variety of colors
Cons:
Removable padding is not enough support for D cup or larger
Sweaty Betty Women's Athlete Seamless Workout Tank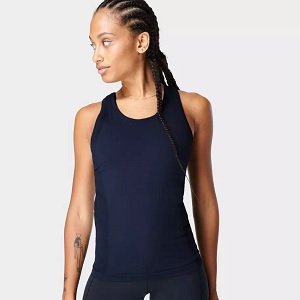 This workout tank top can also be considered a running vest. It's close-fitted but not tight, with generous openings for the arms and neck and a high back. There are mesh panels for ventilation in the sweatiest spots, but the fabric wicks away moisture, too.
The material is nylon with elastane for stretch, therefore the top can be tossed in the washer. It's available in 13 colors in sizes from extra small to extra large.
There are two things reviewers didn't love. The first is the unnecessary tag which most ended up cutting out. And the second is that this is an updated version which is more durable than the prior but not everyone loves the new design (especially if they had the old running top from Sweaty Betty).
Pros:
Running vest and workout tank top that's machine-washable
Close-fitted with a high back
Mesh panels and moisture-wicking fabric
Available in 13 colors from extra small to extra large
Cons:
Not everyone loves the updated design
No need for the irritating tag
Nike Women's Dry Miler Running Tank Top
Get it while you can. It looks like Nike might have discontinued the women's version of the Dry Miler. This was one of our favorite running tops because it's super well-ventilated and lightweight. The Dri-FIT technical fabric is the athlete's choice for high-performance clothing.
Believe it or not, Dri-FIT is 100% polyester. It wouldn't be our top pick for breathable clothing, normally. What makes it work is the weave that releases moisture to keep you feeling dry. Plus, it's machine-washable.
What's more, this running shirt is mostly mesh and so comfortable in hot weather. On the downside, it's also see-through. It has large arm openings and a narrow racerback to give you total freedom of movement.
Lastly, it has reflective detailing to keep you visible at twilight and dawn.
Pros:
Athlete's choice for running in hot weather
Dri-FIT fabric is breathable and dries rapidly
Large mesh panels and narrow racerback for excellent ventilation and freedom of movement
Reflective details
Machine-washable
Cons:
The women's version might be discontinued
See-through
ICTIVE Womens Cross Backless Workout Top
We admit it. Performance and comfort are essential but colors and style are also important. This cute crisscross back tank top is both comfy and colorful.
It has a keyhole opening and a scoop neck for lots of airflow and freedom of movement. Unlike some running tops, it's long enough to cover the waistline.
Thankfully, no polyester/blend is stretchy and fast-drying. It can be machine- washed, too.
Choose from sizes small to extra large in more than two dozen colors.
Pros:
Cute, colorful, and high-performance
Fitted running tank top with a keyhole back reaches below the waist
Wide range of colors in sizes from small to extra large
Cons:
It's tempting to buy more than one but at least this top is affordable
New Balance Women's Accelerate Short Sleeve
New Balance's DRY Technology works similar to Nike's Dri-FIT. Both draw moisture away from the skin and dry rapidly. But what's cool about this technical fabric is that it's 100% recycled polyester.
What's more, this running shirt comes in over a dozen colors with different graphic prints and reflective details on all sides. It's designed for a woman's body but isn't tight or binding. Look closely and you'll see that the airy fabric is somewhat sheer. It wasn't a problem for us because it feels fantastically breezy and lightweight on a hot day. If you're concerned, we found that either gray or beige bras are less obvious underneath.
The good news is that the shirt is machine-washable and surprisingly affordable.
Pros:
100% recycled polyester fabric with DRY technology
Fitted but not tight, breezy and lightweight
More than a dozen colors and patterns with reflective details on all sides
Cons:
Somewhat sheer so dark or light-colored bras may be obvious underneath
Champion Women's Short Sleeve Double Dry Performance Cotton Tee
You probably know that cotton isn't the first choice fabric for a running shirt. That's because even though it's breathable,it retains moisture. Once you soak a cotton shirt with sweat, it takes quite a while to dry compared to technical fabric. Then, staying wet leads to undesirable outcomes like chafing and bad odors.
However, this specially designed T-shirt has adaptive wicking technology. It blends cotton with polyester and actually adapts to body temperature to help you feel cooler. It also provides UV protection.
Reviewers say that this top is soft and lightweight with a ribbed knit texture that isn't scratchy. That's just as well as it still sticks to skin like glue once it's soaked with sweat. But if you're keen on cotton tops, it's a decent compromise.
The style is close-fitted, reaching just below the waist. It features cap sleeves and a V-neck. Although there aren't many colors available, it comes in sizes from extra small to 2XL. Size up if you prefer a looser fit as it seems to run small.
Pros:
Soft cotton/polyester blend with adaptive wicking technology to stay cool and dry
Comfortable for everyday wear, not just exercise
UV protection
Sizes from extra small to 2XL
Cons:
Runs small
Only a few colors available
Not as good at working moisture as technical fabric like Dri-FIT or New Balance DRY technology
ASICS Women's VENTILATE ACTIBREEZE Short Sleeve TOP Running Apparel
Although technical fabric wicks moisture best if it's touching the skin, some of us feel claustrophobic in tight clothing. This women's loose fit running top is the solution.
The 100% polyester material is woven in such a way that it's perfect for staying cool. The technology is called ACTIBREEZE with excellent ventilation in the hottest spots like under the arms, the chest, and the back. It's quick-drying and includes reflective markings and flat seams.
Furthermore, this eco-friendly fabric is made with 50% recycled material. Choose from size extra small to extra large.
Pros:
Eco-friendly fabric made from 50% recycled material
ACTIBREEZE weave has excellent ventilation and moisture-wicking capability
Reflective markings for safety
Sizes from extra small to extra large
Cons:
Roadbox Women's Long Sleeve UV Sun Shirt UPF 50+
Is there such a thing as a women's long sleeve running shirt for hot weather? Yes, and here it is. This shirt provides solar protection, acts as a rash guard, and keeps the bugs off, too.
The breathable fabric is a polyester/spandex blend that's machine-washable. It's designed to be close-fitting but shouldn't be tight. It has four-way stretch for unimpeded movements.
We liked the thumbholes to protect the back of the hand from sun exposure. The curved hem is also a nice aesthetic. More importantly, there's no tag in the collar and the flat-lock seams prevent irritation.
Select from 6 colors in sizes from small to XXL.
Pros:
Close-fitted with 4-way stretch
Thumbholes to protect the hands from sunburn
Rash guard with anti-chafing stitching
Tagless collar and curved bottom hem
6 colors in sizes from small to XXL
Cons:
Not as well-ventilated as other running shirts we reviewed
Conclusion
We hope our reviews of the best women's running shirts helped you find your new favorite workout top today. If so, we'd love to hear from you. Your comment below may help someone else make a tough decision.