Wearing layers is the best way to beat the cold. Long johns have evolved from itchy wool union suits to cotton waffle weave thermals to today's high-performance technical fabric underlayers. Now, the best long underwear for men is like a second skin with benefits.
What are the best men's thermals? We researched to find the best base layers for hunting, working outdoors, and more. We graded them based on warmth, moisture-wicking ability, fabric, durability, and care instructions.
So, what are the best long johns to buy? It all depends on what you'll be doing in them. Long underwear for lounging around the house on a cold day doesn't need to meet the same standards as base layers for skiing. Picking the right kind of thermals requires understanding what they are made of.
Here's a quick overview of the most common materials used in men's thermal underwear
Cotton
Cotton is not a smart choice for a cold weather base layer. It's breathable but only when it's not wet. Unfortunately, it soaks up sweat and stays damp, potentially leading to hypothermia as the moisture cools the skin. If you want cotton long johns to deal with a low thermostat at home, fine. Otherwise, you have better options.
Synthetic materials
Polyester, nylon, spandex, and elastane are good for thermals. They wick moisture away from the skin to keep you dry which is crucial for staying warm in cold temperatures. Moreover, they are lightweight and stretch and move with the body like a second skin. And lastly, they are durable.
Wool
Wool gets a bad rap because people think it's itchy and heavy. However, modern weaves are soft, smooth-textured, and light, especially ones made with merino wool. Wool, like cotton, absorbs water. It can soak up to 30% of its own weight in H2O. But it still feels dry and won't chill the body. Also, wool is amazingly durable even though it weighs more than synthetic fabrics.
Check out the reviews below to find what you need:
Best Long Underwear for Men in 2023
Carhartt Men's Base Force Lightweight Bottom
Guys say these are the best thermal underwear for construction workers but that's not all. They are pleasantly warm and dry for running and exercising outdoors in cool weather, too.
The features we appreciate include odor-fighting technology and quick-drying fabric. The thermals are designed for a close fit so they don't feel bulky under clothing. The material is stretchy but not sheer and the flatlock seams prevent irritation. It also helps that the seams aren't in places that usually rub together.
Keep in mind that they are made with 4-ounce polyester which means they are not warm enough for temps near freezing and below.
Some reviewers noted that the fly is a bit small. Others pointed out that it's important to measure and follow the size chart because tops and bottoms in the same size might not fit–you might need a large in one and an extra-large in the other. Just as well they are sold separately.
Pros:
4-ounce polyester thermals for cool to cold weather
Close-fitting and stretchy for freedom of movement
Fast-drying and odor-resistant
Stitching avoids chafing
Machine-washable
Cons:
Fly is small
Don't purchase tops and bottoms in the same size without checking the size chart
Fruit of the Loom Men's Recycled Premium Waffle Thermal Underwear Long Johns Bottom
They might be baggy long johns but this classic style remains popular all the same. It doesn't hurt that they are inexpensive and machine-washable.
We mentioned that cotton thermals could be a death trap if they get wet. Well, these are a cotton/poly blend with a waffle weave. As a result, it traps warm air near the skin and it feels breathable at the same time. While we wouldn't recommend them for skiing, wet weather, or extreme cold, they are fine for everyday activities where jeans just aren't warm enough on their own.
The plush waistband is non-irritating but it may roll down if you have a muffin top. The legs were a little long on our reviewer but the cuffs kept them from dragging. Check your inseam against the size chart to be sure.
Pros:
Inexpensive and machine-washable for cool to cold weather
Breathable waffle weave made with a cotton-poly blend
Plush waistband and cuffs
Fly
Cons:
Not for temps below freezing or wet conditions
Might be baggy depending on leg length
Muezna Men's Thermal Top and Bottom Set Long Johns
Men like this set of sporty long underwear for everyday wear and exercising because they keep them warm and dry and don't make clothes bulky.
The polyester/spandex blend is soft, stretchy, and breathable, wicking moisture away from hot zones. The tops and bottoms are close-fitting, with a microfleece interior and a sleek exterior.
Moreover, the thermals are anti-static, which is good news in cold, dry weather. The flatlock seams prevent chafing and there are no middle seams to cut down on abrasion. The fabric doesn't retain odors and can be machine-washed. It even resists pilling.
If there's any downside, it's that there's no fly.
Pros:
Sporty design doesn't look like boring long johns
Anti-static polyester/spandex fabric is lightweight and close-fitting
No middle seams and flatlock stitching prevents chafing
Moisture-wicking and odor-resistant
Soft microfleece interior, sleek exterior
Cons:
Under Armour Men's ColdGear Base 4.0 Leggings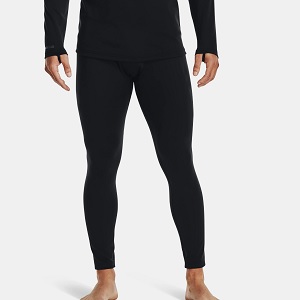 Which is the warmest thermal underwear for extreme cold? We like Under Armour's Base 4.0. It has a lot of things going for it. For example, although it's rated for extreme cold below freezing, it's not thick and bulky. It also dries rapidly, which is crucial in cold weather. Having wet garments next to the skin is an invitation to hypothermia.
Next, the fabric has a brushed fleece interior to hold warm air next to the body. It also has 4-way stretch capability so it moves like a second skin without limiting movement.
Also, whether you wear these thermals for outdoor sports or working, the UA Scent Control Technology keeps odors from lingering in the armpits and crotch. There's also an easy-access fly so you don't have to undress to take care of business.
However, as both Under Armour and reviewers point out, this particular set of long johns is ideal for when you have to be stationary in the cold. They are upgraded from the previous version and feature light compression to maintain good circulation.
Pros:
Designed for extreme cold and ideal for hunting and remaining stationary
Also suitable for outdoor sports and exercising
Odor-resistant and moisture-wicking so they dry rapidly
4-way stretch with light compression, not bulky
Easy-access fly
Cons:
Basic appearance and not a lot of colors available, but who cares when they are underwear
ColdPruf Men's Authentic Dual Wool Plus Base Layer Bottom
What happens when you combine cotton, merino wool, and nylon? You get the best of all three materials in these high-tech thermals. The inner lining is 100% cotton that feels soft and non-itchy. Meanwhile, the outer layer is a cotton/wool/nylon blend that traps in the heat.
The seams are strategically placed to prevent chafing and the fly is fully functional. These are the kind of long johns that are excellent for attending outdoor football and hockey games, working, doing outdoor photography, and other low-impact to medium-intensity activities.
Pros:
The inner layer is ringspun cotton for comfort and the outer is a wool/cotton/nylon blend
Made for low and medium-intensity activities
Traps body heat without feeling itchy
Fully functional fly
Cons:
Not appropriate wet conditions or for activities that cause heavy perspiration
Merino.tech Merino Wool Base Layer Men's Pants
Smart guys know that wool makes the best base layer. Sure, it's more expensive, but it's also more durable, warmer, and effective at keeping you warm even when it's damp. On the downside, it requires a little more care as it should be washed in the delicate cycle and laid flat to dry.
Reviewers say that compared to waffle weave cotton thermals and synthetic long johns, this close-fitting long underwear is surprisingly soft and dry-feeling. It also rejects odors naturally. If you need a base layer to wear in below freezing temps, this one will keep you toasty without making you sweat.
Not only that, they come in a variety of colors and are covered by a lifetime warranty.
Pros:
Naturally odor-resistant and soft
Feels dry even when damp and retains heat all the same
Helps regulate body temperature in below freezing conditions
Available in several different colors
Covered by a lifetime warranty
Cons:
Not as cheap as some options, but more durable and warm
Duofold Men's Mid Weight Double-Layer Thermal Union Suit
It's not just for cosplaying Santa Claus. With a button closure down the front and a panel that opens in the back, it isn't as inconvenient as it looks at first glance. A thermal union suit is still a top choice for guys who don't like to feel a cold draft in the gap between long underwear tops and bottoms.
This particular long john suit has two layers. The inner layer is one hundred percent cotton and the outer is a cotton/wool/nylon blend. It traps in the heat and helps wick moisture away from the cotton layer inside. The extended cuffs on the sleeves and legs prevent drafts, too.
We've all heard that cotton kills in cold weather. That's because it stays damp. We wouldn't recommend this union suit for Antarctic conditions, but it's handy for spending time outdoors when you won't be doing a lot of sweating or getting wet skiing.
Choose from three colors, all of which are machine-washable.
Pros:
Suitable for low-intensity activities in freezing weather
Inner cotton layer is soft and breathable while outer nylon/wool/cotton layer traps heat and wicks moisture
Extended cuffs on arms and legs
Button closure in the front plus rear fly
Machine-washable
Available in 3 colors
Cons:
Not as convenient as separate tops and bottoms, but good at preventing drafts and exposed skin
Conclusion
Be prepared for cold weather with the best long underwear. There's no reason to be uncomfortable when modern thermals will keep you dry and warm without making you feel bulky or restricted.
If our reviews helped you find your new favorite thermal underwear today, we'd love to hear from you. Your comment may help someone else make the right decision.