When they say people come in all shapes and sizes, it's true. Some of us are like rectangles, others like circles, and still others like triangles. It's those triangles that have a pear shape where the shoulders and bust are smaller than the hips and thighs. If you need to visualize examples, think about Rihanna or Jennifer Lopez. It's not about the size you wear but rather the bone structure. And this particular body shape makes it a little hard to find pants that fit right.
On the bright side, we did the research to get you started. We'll show you the best jeans for pear-shaped women. Let's start by discussing the styles that look good on a pear-shaped body.
Styles that flatter a pear shape
Here are the styles that fashion experts recommend for pear-shaped women:
Bootcut jeans – they stay in fashion because they're comfortable and because the flare at the bottom balances out the hips
Flared jeans – similar to bootcut, they fit snug at the waist, hips, and thighs and flare out at the bottom
Wide leg jeans – they hug the waist and disguise the thighs
Straight jeans – pretty much a misnomer as women's styles often contain elastic fabric that hugs curves
High-waisted jeans – these will lengthen your legs, especially if the fabric is dark-colored
Curvy cut jeans – as my mother used to say, if you've got it, flaunt it
As you can see, you have a lot of possibilities to choose from. Of course, it's easier when you can try on things in person. Shopping online is more challenging – more so when sizes vary between manufacturers.
How to shop online for the best pear-shaped women's jeans
Grab your measuring tape even if you think you already know your size. Different brands run bigger or smaller and the style has an impact on fit, too. It's best to check your waist, hip, and inseam measurements. Once you have those numbers ready, it's time to consider the style of jeans you want.
Is your goal to balance out the hips, waist, and bust or to emphasize the curves? Remember that stitching can draw the eye just like color and pattern can.
For example, if you want to minimize a pear-shape, try bootcut or flare jeans. If you're trying to deemphasize thighs, take a look at wide leg and straight leg jeans. Let's look at the best jeans for pear-shaped women and you'll see what we mean.
Best Jeans for Pear-Shaped Women in 2023
Lee Women's Flex Motion Regular Fit Bootcut Jean
These aren't the exaggerated bellbottoms of the seventies. Instead, these are fitted bootcut jeans with a little elasticity so that they hug your body. They have a mid-rise waist that hits just above the belly button. The waistband is thick enough to wear a belt and has a zip fly with a button closure.
The fabric is a soft and breathable blend of 60% cotton, 17% polyester, 22% rayon, and 1% spandex. The polyester ensures that it won't wear out so fast where the thighs rub. Plus, if you actually wear boots, they have an 18-inch ankle opening to accommodate ropers and so on.
If you've owned Lee jeans before, you already know they have a reputation for being comfortable, affordable, and durable. This pair follows the curves in all the right places, too.
Pros:
Soft, breathable fabric hugs curves and flares at the ankles
Balances out a pear-shape with a mid-rise waist and bootcut bottoms
From a reputable brand known for comfortable, affordable jeans
Cons:
Not a lot of choices when it comes to color, but if you like the classic blue jean, you're all set
VIPONES Flare Jeans
What's the difference between flare jeans and bootcut? The flare style is a little more exaggerated like bellbottoms. And when jeans have a nice stretch to them like this pair, they cling to the hips and thighs to flatter your figure. You might say that they are the best jeans for a petite pear shape.
However, they don't have a high rise – they only come up to just under the belly button. But the zip fly with 2-button closure highlights the waistline.
Moreover, they are prewashed with a gradual aging effect. Once you select the right size, you don't have to worry about them shrinking.
Pros:
Stylish and stretchy with distressed fabric and a 2-button closure
Flatter a petite pear shape
Cling to the hips and thighs
Cons:
Allegra K Women's Vintage Flare Jeans
What about high-waisted jeans for a pear-shaped body? This pair doesn't have the highest rise, but it hits the natural waistline. The fact that the fabric features 2% spandex means that there's plenty of give so you don't need to order a larger size. What's nice is that they will make your legs look longer.
The pant legs flare at the bottom but don't have a typical hem. Instead, there is a fringe, which means it's important to get the right length so you won't need to alter them. Reviewers say the style looks great with boots or sandals, it doesn't matter.
Pros:
High-waisted flares that reach the natural waistline and lengthen the legs
Stretchy 2% spandex blend provides a comfortable fit with plenty of give and no bunching
Stylist stitching and fringe
Cons:
The largest size is a US 18 with a 34.7-inch waist
Lee Women's Sculpting Slim Fit Skinny Leg Jean
Can pear-shaped women wear skinny jeans? Of course they can, especially if the jeans have a high waistline. This pair has a 10-and-a-half-inch rise.
Furthermore, these are designed to slim and sculpt the body. The fabric consists of 71% cotton, 25% polyester, and 4% spandex so it is ultra-comfortable no matter what you're doing when you're wearing the jeans.
Reviewers say it might be wise to start with a size smaller or else the jeans may be baggy by the end of the day. If you prefer less stretch, check out the Revolve style from the same brand.
Pros:
Skinny jeans with a 10 and a half-inch rise
Sculpting and slimming fabric has 4% spandex for extra stretch
Cons:
Stretchy and comfortable, but sometimes baggy
Levi's Women's Ribcage Straight Ankle Jeans
What is a super high rise? No, it's not the Burj Khalifa. It's a description of how high the waistline is on a pair of jeans. This trendy pair's rise is 12.125-inches, which takes the waist above the belly button to the bottom of the rib cage. That's good news for pear-shaped women.
You might also joke about the high-rise bottoms as the hem doesn't reach the ankle. But come on, you've got to admit that these are cute jeans. The straight legs and cut-off hem are also flattering for a pear-shape.
What's interesting is that the cotton/polyester blend also has a little elasticity from elastane. It makes them more comfortable if you've eaten a big meal. Trust me, that's important as these are button fly pants.
Pros:
Super high rise waistline of 12.125-inches flatters a pear shape
Straight legs and cropped bottoms are trendy
1% elastane adds a little stretch
Cons:
Not everyone loves a button fly
Gloria Vanderbilt Plus-Size Amanda Classic High-Rise Tapered Jean
What about the best jeans for a plus-size pear shape? If you love classic style jeans, check out this pair. It's available in light or dark shades.
The fabric is 98% cotton, 2% elastane, which is perfect for summer. It's a little stretchy so it hugs the body with plenty of give, too.
The pair sits on the natural waistline, so it's described as having a "high rise". That's a good look for a pear-shaped body. The legs taper slightly towards the ankle – they aren't straight, but they aren't skinny jeans, either.
Reviewers say that the dark blue color is dressy and doesn't even look like denim. The style is figure-flattering and very comfortable.
Pros:
98% cotton, 2% elastane blend is soft and breathable; hugs curves with plenty of give
High rise sits on the natural waistline
Slight taper down to the ankle
Available in light or dark blue
Cons:
Gloria Vanderbilt Women's Comfort Curvy Skinny Jean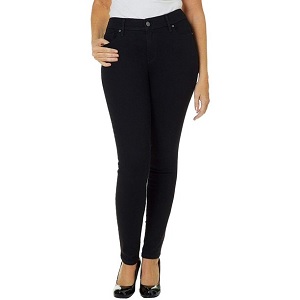 These jeans come in light blue, dark blue, and black. The black happens to be a solid true black which lets you dress up without leaving your denim at home. Each pair is made of a soft yet durable blend of cotton, polyester, and elastane. That last material is the stretchy stuff that lets you move freely in them. Who said skinny jeans couldn't be comfortable?
The waistline is a mid-rise so it sits just below the natural waist. It features large belt loops to accommodate pretty much any size belt. It's not surprising as this brand is known for versatile, flattering jeans in classic styles for women.
Be sure to check your measurements because reviewers say you might need to size down.
Pros:
Skinny jeans with a mid-rise waistline
Stretchy fabric allows freedom of movement while it hugs curves
Available in light blue, dark blue, and black
Cons:
It's tempting to buy a pair in every color
SheIn Women's High Waist Boyfriend Jeans
Skip the stretch. This pair of wide leg jeans has no spandex or elastane. Instead, the denim is 85% cotton, 15% polyester with a button closure and a zipper fly.
Why are they called boyfriend jeans? It's because they are made to look like you borrowed a guy's pair of jeans. But don't be fooled – these aren't blocky or bulky. They are cut with a tapered high waist that hugs the hips and covers the belly button.
Pros:
High waistline with wide legs balance out a pear shape
85% cotton, 15% polyester fabric is made to last
Come in 3 shades including black
Cons:
The largest size is for a 34-inch waist
There's no stretch so be sure to choose the correct size
Conclusion
We hope we helped you find a fashionable, flattering pair of jeans that you love to wear. If so, tell us more about them in the comments below.