I'll bet you're here because you've ruined yoga pants or tights in the laundry before. But it might also be that you're trying to avoid shrinking, fading, or damaging them in the first place. I know you don't want a sad outcome. You're practically living in those things because they're so comfy. Not to mention all the money you spent on them.
You're in the right place because you're going to see how to wash leggings properly. Let's get started with pro tips that will save you time, effort, and money.
Can leggings be washed in a washing machine?
Before we go any further, go grab those leggings and look at the care label. Sometimes it will have written instructions and other times only symbols.
If it says "hand wash only" you have your answer. It's the same thing if you see a little icon of a washing machine with a line or an X through it. Don't use the washer.
That's the official answer.
However, hand washing is a pain. So, let's be honest. Can you get away with machine-washing leggings?
You might be able to if you can answer yes to these three questions:
Does your washer have a "delicates" setting?
Can you adjust the temperature to cold?
Do you have detergent made for washing synthetics or lingerie in the machine?
Then, here's the unauthorized method for washing leggings in the washer.
Use cold water and the delicate setting with the special detergent.
Turn the leggings inside out and put them in a mesh bag.
Forget about the fabric softener – you don't need it. (More on that in a moment).
Wash them with other delicate and lightweight items, never anything heavy like jeans. Then pull them out as soon as the cycle is done and let them air dry.
Hang them away from direct sunlight and sources of heat like radiators.
Why all the special treatment?
It's because I'm sure you don't want them to fade, shrink, or pill. You don't want the elastic to fall apart or the moisture-wicking ability to stop working.
But seriously, if your leggings say hand-wash only, it's best to follow those directions.
Woolite Damage Defense Liquid Laundry Detergent
This is one of the best detergents for delicates if you plan to cheat and wash them in the machine. It's safe for synthetic fabrics and cotton blends just like your leggings.
It keeps clothes looking like new because it prevents fading, stretching, and pilling. Plus, it does this in cold water without the help of phosphates or optical brighteners.
You can use it in both regular and high-efficiency (HE) washers.
How do you wash leggings without shrinking them?
Heat is the enemy of your leggings. Wash them in cool water and don't put them in the dryer.
The experts recommend air-drying leggings away from sources of heat including direct sunlight.
As long as you avoid heat, the leggings shouldn't shrink.
How to dry leggings fast
But what if you're in a hurry to wear those freshly-washed leggings? Putting them in the dryer and exposing them to high temperatures is a definite no-no.
Can you use the no-heat setting in the dryer? Maybe, but this is risky. All that banging around in the drum of the dryer isn't going to do the fabric any favors. At a minimum, make sure the leggings are turned inside out. And for the love, don't dry them with anything heavy or fuzzy.
Can you use a hair dryer on cool? I'll tell you a secret. I've been known to dry the crotch of the leggings and wear them damp otherwise.
What about a fan? This is a good option. It's still going to take a while.
If you've hand-washed your leggings, they're probably pretty wet. Turn them inside out and roll them inside a clean towel to press out the water. Don't twist them.
How to hand-wash leggings?
How do you wash leggings at home? If you're not using a washer, you'll need a bucket, bathtub, bidet, or sink deep enough for hand-washing the leggings.
You also need cool or cold water and an appropriate detergent. For example, there's this one that doesn't require much effort at all:
2Toms StinkFree Sports Laundry Detergent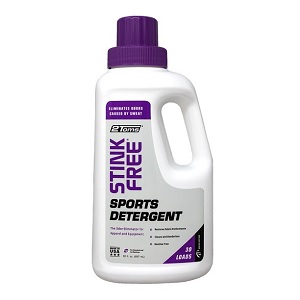 It's a toss-up whether this is the best detergent for hand-washing leggings or if the next one is better.
This one is designed to remove odors from all sorts of sports apparel and gear. It's safe for all types of fabric including cotton, neoprene, Gore-Tex, canvas, and synthetics.
Moreover, it's perfume-free, which is good news if you have allergies.
Check the directions so you know how much detergent to add to the water. Mix it and submerge the leggings. Let them soak for twenty minutes and stir a bit more to dislodge the dirt. Then rinse and you're done.
What's nifty is that this laundry soap lifts away sweat, dirt, and stink with minimal effort. It completely removes odors from sports bras and compression tights.
Woolite Extra Delicates Care Detergent
Then, there's the old standby detergent for delicates. My mother used Woolite on wool, rayon, linen, and silk. I've used it for modern lingerie made from synthetic materials. It keeps delicates from fading and shrinking so it's perfect for leggings.
What's more, the mild formula won't wreck the skin. The hypoallergenic detergent is free from enzymes, phosphates, and bleach.
Let's get back to how to hand wash leggings properly.
What shouldn't you do when you wash leggings?
If you're hand-washing leggings, be gentle. The whole point of washing them by hand instead of putting them in the machine is to protect them from abuse.
Don't scrub stains. Let the leggings soak for longer so that the detergent can take care of the problem. If the spot persists, rub it gently with a fingertip. Use a circular motion and be careful not to snag the fabric. Another option is to use a soft sponge to repeatedly press on the spot – but don't scrub. Just let it soak some more. Use an activewear detergent like the ones below.
When you're done soaking the leggings, don't twist or wring them. Gently squeeze them to remove excess moisture and rinse them. Squeeze them again and lay them flat on a towel. Roll up the towel and press out the excess water. (I have a big microfiber beach towel that does a great job of sucking out the moisture, plus it dries fast).
If the leggings are still pretty heavy and wet, drape them over a towel rack. If you use clothespins to hang them up by the waistband, it might stretch the elastic. On the other hand, if you're not afraid to stretch the legs, you can pin them up by the cuffs with the waistband closer to the floor.
Also, please don't wash leggings with towels. The towels will leave lint all over the fabric. Even cotton T-shirts and socks may release fibers that cause the same problem.
But it's not just cotton that may cause the material to pill up and form little balls on the surface. Heavy denim jeans may damage synthetic fabric. Wash your leggings with other lightweight clothing, preferably synthetics and delicates (that aren't fuzzy).
How often should you wash leggings?
When you've been sweating in your leggings, it's best to change them every day. Tight-fitting clothing should be washed often unless you like being covered in bacteria and old sweat.
But if you've been hanging out at home, lounging in your yoga pants, you might slide by and not wash them for a couple of days if they don't stink.
But if you're wondering how often to wash running tights, clean them after every time you wear them.
If the leggings are damp when you take them off, wash them right away or at least let them air dry before putting them in the hamper.
And if you only make a weekly trip to the laundromat, I'd invest in detergent for athletic clothing. It will remove odors better than regular detergent.
WIN Activewear Laundry Detergent
You're going to love activewear detergent for your machine-washable leggings. It's perfect for technical fabric, synthetic materials, and microfiber. Not only does it remove the stink that builds up in yoga pants, but it also protects the fabric's high-performance properties.
I couldn't decide between these three sports detergents. I like this one because it comes with either a fresh scent or fragrance-free. It keeps Spanx and Lululemon leggings looking like new. It removes stains from sports gear and white shirts, too. Just let them soak for about twenty minutes before running them through the machine.
Happily, it's septic-safe and cruelty-free.
HEX Performance Eco Package Liquid Laundry
Then, there's this detergent that removes buildup from all the other detergents you used to use. Did you know that if your towels and athletic wear stink after washing, it might not be your fault?
Fabric softeners are supposed to make your clothes soft and fragrant, but they trap junk in the fibers. They also clog up the moisture-wicking ability of synthetic weaves. This detergent will cleanse the residue and restore the material to a like-new state. No wonder it won the Runners World Gear of the Year award.
Fortunately, it comes in either lightly-scented or fragrance-free versions.
Sweat X Sport Original Activewear Laundry Detergent
This biodegradable detergent works in both regular and HE washing machines. It's designed for athletic apparel because it eliminates odors and stains without harming the color or performance of the fabric.
Not only does it work on grass and food stains, but it's also gentle on the skin. Get it in either Max Odor Defense or Free and Clear versions.
Is it true that you shouldn't use fabric softener on leggings?
Maybe you think that you can't live without fabric softener, but I bet you can. At a minimum, your leggings will thank you. Fabric softener clogs up the synthetic fibers and stops them from wicking away moisture. It may also trap odors.
The same goes for detergent. It's tempting to use more detergent when you're clothes are extra dirty. But resist the temptation because more soap means more residue. It may make the leggings feel stiff and worse, it may damage the fibers or stop them from wicking moisture.
If you've managed to kill your leggings in the laundry, at least now you can do better with the next ones you buy.
Danskin Women's Full Length Legging
I'm as big a fan of Lululemon leggings and Spanx as the next woman. But I can't afford as many pairs as I'd like. Instead, I've found that Danskin leggings are quite comfy and affordable.
The fabric is a cotton/spandex blend that feels soft and cozy. It has four-way stretch so it moves with the body naturally. On me, the mid-rise waist feels just right.
The leggings are great for yoga, gym workouts, and casual wear. If you bend over, they aren't see-through. Plus, they have a little key pocket on the inside of the waistband, too.
90 Degree By Reflex High Waist Power Flex Tummy Control Leggings
They call them "squat-proof" and I have to agree. If you get the right size, people aren't going to see your behind.
They're made of Power Flex fabric – a nylon/spandex blend. It makes them feel sleek and sporty.
Moreover, they have a high-rise waistband that helps tuck in the tummy. It's light compression, but it smooths the silhouette. I also like that it doesn't roll over easily.
The waistband pocket is big enough for a small smartphone. I'm not sure I'd want to keep my phone next to my sweaty skin, but at least the option is available.
Lastly, the brand offers a thirty-day money-back guarantee. They accept returns with no questions asked.
Conclusion
I hope I've answered your questions with pro tips about how to wash leggings properly. You'll get the best results with activewear detergent and save a lot of time if the leggings are machine-washable.