If you're looking for the best dad T-shirt, we've got lots of ideas for you. Dad shirts make great gifts for Father's Day, birthdays, and Christmas.
We wonder what kinds of T-shirts Clint Eastwood's eight children have given him over the years. Were they printed with any of his iconic lines? Then there's Eddie Murphy with ten children – that's a lot of dad shirts! Did you know that he said, "Along the way, I realized that if you put your children first you never make a bad decision".
There are lots more doting dads, like John Legend who wears matching outfits with his son. And there's David Beckham who has publicly stated that his greatest achievement is his family.
If you want to remind your dad, father, stepfather, or grandfather that they are the greatest, check out this selection of the best dad T-shirts.
Best Dad T-Shirts in 2023
Dad Brick Builder T-Shirt, Master Builder Shirt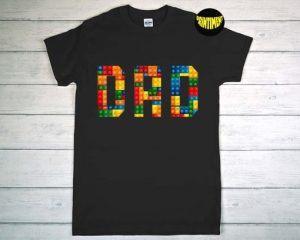 Let's start with something simple. This colorful design made of Lego blocks spells out the message that your dad is your foundation in life.
But when did we start honoring our fathers with gifts? The official start of Father's Day wasn't until 1972.
Mother's Day had been a holiday since 1914. Dads might've felt left out, but maybe they were too macho to talk about it. Although people pushed for an official Father's Day and even celebrated it unofficially, it was only recognized in the USA after President Nixon signed the paperwork. Now, each year it falls on the third Sunday of June. (Compare that to countries that celebrate it in March because of St. Joseph's feast day).
At any rate, now Father's Day does a billion dollars worth of business yearly. We all feel the pressure to come up with a worthy gift for our papas.
With that said, this T-shirt is a good deal. It shows the world that the man wearing it isn't just a man with offspring but a dad, someone who's involved in rearing a child who loves him.
You can get it in more than just the basic unisex T-shirt. It's also available as a long sleeve T-shirt and a sweatshirt in sizes ranging from extra small to 3XL so that no one is left out.
Moreover, the cotton poly blend comes in a variety of colors like black, white, sport grey, Irish green, maroon, navy blue, and royal blue. Each is pre-shrunk and made to last with double-needle bottom hems and sleeves. That's not surprising as the tees come from quality manufacturers like Gildan and Next Level.
Lastly, the design is professionally screen-printed in the USA with green technology. If there's any con, it's that there are even more fun Father's Day designs available.
Star Wars: The Mandalorian & Grogu Best Father's Day T-Shirt
Among the funny best dad t-shirts we saw, we fell in love with this one. How can anyone resist Grogu? His relationship with the Mandalorian melted our hearts.
It's an officially licensed Star Wars product. It's only available as a short sleeve tee, but it's available in sizes small to 3XL.
All the solid color T-shirts are 100% cotton while the heather grey is a 90% cotton, 10% polyester blend. Reviewers say the fabric is soft and comfortable and the shirt fits true to size.
Outnumbered Girl Dad T-Shirt, Girl Dad Shirt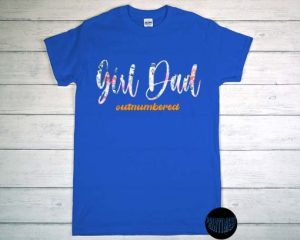 These t-shirts for dads with daughters made us laugh. Now there are more girls than boys in the family so dad is outnumbered!
The design is available in two styles: one with cursive floral print and one with block letters. In either case, you can get it on a sweatshirt, long sleeve tee, or unisex T-shirt in sizes extra small through 3XL. They come in a nice selection of colors including white, black, maroon, sport grey, Irish green, navy blue, and royal blue.
The T-shirts are manufactured by Gildan which is a brand known for its eco-friendly practices. Then, they are screen printed in the USA and shipped from California to wherever your dad is.
The Grillfather BBQ Grill & Smoker | Barbecue Chef T-Shirt
Does your dad love to grill out? Then he deserves this punny t-shirt! Reviewers say that their dads get a kick out of it.
You can get it in classic Mafia black or a range of other colors. Solid shades are 100% cotton and heather colors are cotton poly blends.
However, the tee is only available in a classic guys' fit, but it has double-needle stitching on the sleeves and bottom hem.
Top Dad | Funny 80s Father Movie Military Force T-Shirt
Are you trying to imagine the right "best dad ever shirt"? If your dad is Gen X, he'll love this one. Yes, it looks just like the Top Gun logo from the famous film.
The design is created and screen printed by artists in Michigan. They use T-shirts made with soft ring-spun Jersey knit fabric in a 90% cotton, 10% polyester blend. The tagless shirts are pre-shrunk and true to size. (For example, guys that are 6'2″ and 200 pounds would wear a large).
The shirts have a nice touch – they are slightly tapered at the bottom so they don't look so boxy and baggy. Reviewers say they are the perfect length.
Moreover, these are American-made through and through. The cotton is 100% grown in the USA and the ink comes from North Carolina. In fact, the screen printing ink is crack-resistant and fade-resistant. Just as important, it contains no carcinogens or phthalates.
My Favorite Basketball Player Calls Me Dad T-Shirt, Basketball Dad Shirt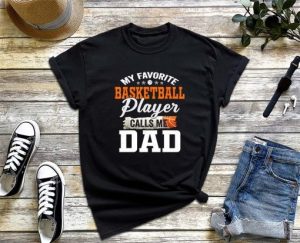 Here's the perfect T-shirt for the dad that shoots hoops with his kids. It's customizable as you can get it in a wide selection of colors and styles.
For example, choose from unisex, long sleeve, or sweatshirt styles available in sizes extra small to 3XL. (Fact: it's also available in youth and women's fit styles as this manufacturer doesn't discriminate).
The shirts are either cotton or cotton poly fabric with taped neck and shoulders and double needle hems and sleeves. The colors include black, white, navy blue, royal blue, maroon, Irish green, and sport grey.
Proud Army Dad T-Shirt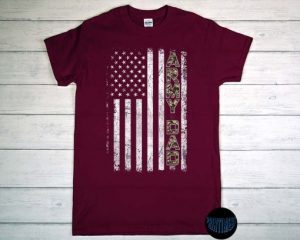 If your dad is willing to put it all on the line, show him that you're proud of his courage. Get him a comfortable T-shirt that he can relax in when he's not fighting for his country. The patriotic flag also makes this shirt a Fourth of July favorite.
Short sleeve tees with this design come in navy blue, royal blue, maroon, white, black, Irish green, and sport grey. You can also choose a long sleeve T-shirt or a sweatshirt with the same logo. All are printed in the USA.
This is what an Awesome Dad looks like T-Shirt
Just so there's no doubt, get your dad this funny T-shirt. Every time he wears it, it's going to make him smile. He'll probably get some good-natured ribbing from his buddies, too.
It comes in either solid 100% cotton fabric or softer colors described as "heathers". We'll let you in a little secret: most of the time when a T-shirt color is listed as "heather" gray, blue, red, etc., it's a cotton polyester blend – usually 50/50. If you're not sure which type of T-shirt is better, check out our buying guide for T-shirts below.
A buying guide to help you pick the best T-shirt for your dad
It's not just the design that matters. Your dad will love the T-shirt more if it fits him right and feels good.
Let's start with size. Here's how to measure a guy for a T-shirt.
What to measure to get the right shirt size
You'll need a fabric measuring tape (like for sewing) or a piece of string and a yardstick or a regular measuring tape from the toolbox.
Have your dad stand normally with his muscles relaxed. Wrap the tape measure around the biggest part of the chest under the armpits. Keep it snug but not tight. Take note of the size.
Measuring around the chest is the most common way to select a T-shirt size, but there are other measurements that size charts may show you. For example, the length of the T-shirt is measured from the highest point of the shoulder to just below the waist.
You might also see indications for neck size or sleeve length. Measuring for those is just like they sound. For the neck, wrap the tape around the base right above the shoulders. For the sleeve length, extend the tape measure from the top of the shoulder to the wrist bone.
Typical American T-shirts for men usually fall into these size categories:
S
M
L
XL
2XL
3XL
Chest (inches)
18
20
22
24
26
28
Length
(inches)
28
29
30
31
32
33
Choosing the fit
Would your dad prefer something loose or fitted?
If you're not sure, the next time he's wearing a favorite T-shirt, look at the shoulder seams. If they hit the top of the shoulder, the shirt probably fits about right. If the seams fall lower down on the upper arm, it's probably a baggy T-shirt, maybe a bit oversized.
Next, look at the hem of the T-shirt. Chances are, it covers the waistband and maybe a little bit more. If it's too short, it'll show off skin if he raises his arms. But if it's too long, he'll be sitting on top of it.
The shape also matters. Some T-shirts (like slim fit) taper down to hug the waist. Meanwhile, others are either classic fit or loose fit. Which kind does he prefer?
Which T-shirt fabric is best?
T-shirt quality matters. We have T-shirts that are over a decade old but don't have a single hole. Some of this is due to a high thread count. This means the individual threads are woven close together, making the fabric durable. It's also likely to feel softer. When you hold the T-shirt up to the light, you can't see as much through it as you can with a cheap tee.
Although thread count is something you're more likely to associate with bedsheets, you might also see references to fabric thickness like this: 5.3 oz./ yd2 or 8.8 oz./L yd. If you see those numbers on a cotton T-shirt, you'll know that it's nice and thick.
While we're on the topic of cotton, you might find yourself in a quandary between organic cotton and inorganic cotton. Inorganic cotton may actually feel softer when it's new because it's been treated with chemicals. But organic cotton will feel nicer down the road and it's more eco-friendly.
Then there's the question of cotton versus polyester. The polyester keeps the fabric from wrinkling and makes a T-shirt stretchier. On the flipside, high count polyester T-shirts tend to pill and might feel warmer as they are less breathable.
Which kind of T-shirts are best for the environment?
Your dad is trying to make sure you have a bright future so he wouldn't want you to pollute your environment just to give him a T-shirt.
By now, you've probably heard a lot about sustainability versus fast fashion and environmentally-friendly manufacturing versus greenwashing. You might also consider whether the T-shirt was produced ethically or made by slave labor in a sweatshop.
And it's not just T-shirt fabric and fabrication. When you order a custom dad shirt, someone has to print it with the design you choose, and that involves ink and potentially waste from misprints. But don't let all these factors overwhelm you. There are sites like Ethical Consumer that have done in-depth reviews of fashion brands. Plus, you can look at the About Us and FAQs pages of the sites where you intend to order a T-shirt. At Printiment, they use a non-toxic printmaking system and source the T-shirts from eco-friendly manufacturers like Gildan.
Wrapping up
In conclusion, we hope that you just found the perfect dad T-shirt today. We're pleased that you stopped by and look forward to your next visit!