Are you already a barefoot runner or are you interested in trying barefoot running? This article is for you either way. I've researched the best barefoot running shoes and personally tested every pair I could get my feet into.
It's true that minimalist running shoes are a niche market but they have hard-core fans. Barefoot shoes are also worn for exercising in the gym and day-to-day activities like shopping, school, and work.
The biggest surge in barefoot running's popularity came when the world learned about the Tarahumara tribespeople. They can run for hundreds of miles in thin sandals without injury.
Running barefoot is healthy, no doubt about it, but it takes practice. If you've worn shoes all your life, you have to retrain your feet and strengthen them. I've included the best beginner shoes for barefoot running below to get you started. You'll also find reviews of the best barefoot trail running shoes and ultra-minimalist shoes in the reviews below.
Which is better: barefoot running or with shoes?
The answer depends on who you talk to. Some athletes and orthopedic experts insist that the support and cushioning of high-tech running shoes are absolutely necessary to avoid injury. This may be true if you run by striking your heels on the pavement. However, even as technology improves, runners still end up with bad knees and other problems.
Perhaps the problem isn't in the padding but the form. Barefoot runners land on the midfoot. That reduces impact throughout the body. Therefore, experienced barefoot runners seem to have fewer injuries or chronic health problems (1).
Humans have feet that naturally stretch, bend, and flex. Barefoot running engages the muscles, ligaments, and tendons and uses the foot as a natural springboard.
Furthermore, human feet are sensitive to texture and pressure. Barefoot runners often find themselves more at peace and more connected to nature as their contact with surfaces stimulates their minds.
How can you avoid injuries when starting to run barefoot?
Before you run, learn to walk barefoot.
That may sound silly as you probably already do it around your house and yard. But you may be landing on your heels as if you were wearing shoes. This is the wrong form for barefoot running. You need to practice landing on the front part of your foot. There are many helpful videos online that can teach you.
Ease into it – gradually wear minimalist shoes more often and traditional shoes less frequently.
It will take some time for your feet to strengthen. You'll probably also notice that your calves and shins need time to adapt. If you start out running miles barefoot on the first day, you will be sore. Instead, try a quarter-mile or half-mile and slowly build up. Do it in intervals where you walk a few yards, then run a few yards.
Choose a soft surface to run on.
Don't hit the asphalt or concrete yet. Try running on the beach, grass, or a cushioned track. Remember that your new minimalist shoes or bare feet don't have anywhere near the padding of the shoes you're used to.
What is a minimalist shoe?
If you want to go barefoot running, why are you looking at minimalist shoes? Shouldn't you just head out with bare feet?
Sadly, unless I'm running on an indoor track, I refuse to run barefoot. The beach has all sorts of debris hidden in the sand. City sidewalks and streets are full of dangers, too. Even running through the forest or the park can be tricky because of gravel, thorns, and so on. I much prefer to run in minimalist shoes that protect me from cuts, scrapes, and bruises.
How can you identify a shoe that's good for barefoot running?
A good minimalist shoe or barefoot running shoe has a zero drop sole. There's no difference in height between the front and the back.
It flexes with the foot as it doesn't have a stiff sole or upper.
It has a wide toe box so the toes can splay naturally.
It allows you to feel the ground beneath your feet but still protects you from minor injuries. (I use the Lego test. If I step on something, I want to know it's there but I don't want it to hurt).
It provides minimal interference with regards to motion control and stability.
In summary, the best barefoot running shoes allow you a full range of motion yet provide superficial protection (2).
Let's start with the best running shoes for beginner barefoot runners.
Best Barefoot Running Shoes in 2023
Merrell Trail Glove 6 Sneaker
It's a minimalist trail running shoe made in both women's and men's sizes. Measure carefully before ordering because I've heard reports it runs a little large.
Why start with a trail running shoe? It's because it blends the best benefits of a barefoot shoe with modern trail running technology. For example, it has a durable Vibram rubber outsole with excellent traction. There's also a rock plate to guard against bruises from sharp terrain.
At the same time, the 5mm-thick zero-drop sole is very flexible so that the foot has a natural range of motion. It's a little more cushioned than the prior version, the Trail Glove 5, so it's better for beginners who are transitioning to barefoot running. It even has arch support.
It's not waterproof but it's quite breathable. The mesh upper is soft and comfy if you prefer to go sockless, yet it resists abrasion.
What's nice is that Merrell is using more recycled and renewable materials in its shoes. The uppers here are 65% recycled synthetic and the outsole is 30% recycled rubber.
Xero Shoes Mesa Trail Running Shoe
The search engine knows my secrets. I've been getting spammed with ads for Xero shoes. But the aggressive marketing isn't just fluff. These minimalist shoes offer a lot of benefits for barefoot trail runners.
First off, they have a zero-drop sole which allows you to have a natural posture. I can personally say that since I switched to minimalist footwear my sense of balance and agility have both improved. I feel more in touch with the environment around me.
The 5 mm-thick lugged sole enhances the sensation of stability. It stops me from feeling sharp rocks but allows me to adjust to the terrain. Moreover, the material has a good grip on slick surfaces.
Also, they have a wide toe box but the laces ensure that they fit properly even on narrow feet. Sadly, it's the laces that a lot of runners don't like. They are quite bulky.
Lastly, these lightweight shoes will feel like nothing on your feet. A pair weighs just under a pound.
Merrell Vapor Glove 5 Sneaker
I hate to admit it, but I never bought these for street running. I prefer them for everyday wear instead. However, I know of other runners who love the Vapor Glove series enough to race and do marathons in them.
The previous iterations are comfortable but don't fit as well as the Vapor Glove 5. This new model has a tighter heel cup and a wider toe box. They also seem more durable. Prior versions wore out after a few months.
If you're new to barefoot running, you'll also appreciate the foam insole for a little extra padding.
ALTRA ALM1933B Escalante Racer Road Running Shoe
Pay close attention to which Altra Escalante running shoe you pick. Make sure to get the one with a zero-drop sole. It has less cushioning and it's made for speed.
If you compare its weight to the Merrell Vapor Glove, the difference is shocking. It's featherweight.
Moreover, it has an energy-return midsole. That's the exact zone you'll be striking as a barefoot runner. You get protection but can still feel the ground.
The mesh uppers are super breathable yet cling to the foot like socks with plenty of room in the toe box.
But be aware that there's no lateral stability. You'll be using the muscles, tendons, and ligaments in your feet and legs, not depending on the shoes' structure. Still, the responsiveness is incredible!
Vibram V-Run Sneaker
Because of the individual toe slots, they look like gloves for your feet. When Vibram launched the Five Fingers lineup, there were plenty that made fun of the early adopters. Now some of those same scoffers proudly run in these unique barefoot sneakers.
The style is often imitated but never equaled. You've probably seen knockoffs with toe boxes that look similar but don't actually separate the toes. I've tried the Saguaro brand, for instance. I found them to be quite stiff and bulky with a very different feel from the Vibram barefoot sneakers.
Of course, these sneakers aren't for everyone. Some won't like having their toes separated. And then there's the problem of choosing which Five Fingers style you want. Some are leather and others are mesh. Some are slip-ons and others have laces. I split the difference with these lightweight running shoes. These are the women's version made on a last shaped for women's feet.
They have soft and breathable Lycra mesh and polyester microfiber uppers. The outsole is 2.5 mm of grippy rubber with a lightly padded EVA insole. They feel hard if you've been exercising in typical cushiony running shoes, so take some time to adapt and break them in.
On the bright side, not only do they weigh around 5 ounces, but they can be machine-washed.
Skinners 2.0 Minimalist Barefoot Sock Shoes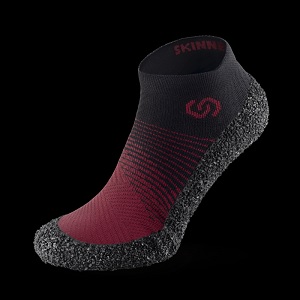 The best barefoot running shoes for the beach aren't really shoes at all. They aren't exactly water socks, either. Picture in your mind the rubbery material used on running tracks. Now slather that on the bottom of your favorite sports socks. That's basically what Skinners are. They are reinforced socks that are incredibly comfortable. In my opinion, they are as close as you can get to barefoot running and still wear some sort of protection against scrapes and cuts.
The rubbery outsole is 3 mm thick, plus there's a removable 2 mm thick insole. Will that stop you from feeling the Legos underneath your feet? Definitely not. But the Swedish polymer does stop broken glass and rocks from causing injuries. Furthermore, it provides a good grip on most surfaces.
How fast do they wear out? The Skinners 2.0 is rated for 500 miles. I have both the original version and the 2.0 and have yet to put holes in them although I wear them on concrete and asphalt. The soles do go smooth after a few tens of miles. You can clearly see the wear pattern of how you walk or run.
Although the uppers are made of a special knit fabric that resists odors, you can toss them in the washing machine inside out and they air-dry within a few hours.
The shoes are made in the Czech Republic by a brand that's expanded into compression socks with the same protective soles and casual barefoot shoes appropriate for the office.
Conclusion
You'll be shocked at how good you feel going barefoot running. People around the world have discovered the joys of reconnecting with the earth while strengthening their bodies running barefoot. Many experience fewer injuries and have healed from chronic conditions like plantar fasciitis. Don't hesitate to get started today with a pair of the best barefoot running shoes. You'll thank yourself down the road.
Sources:
1. https://www.mayoclinic.org/healthy-lifestyle/fitness/expert-answers/barefoot-running-shoes/faq-20058003 What are barefoot running shoes? Are they better than traditional running shoes? Answer From Edward R. Laskowski, M.D.
2. https://jfootankleres.biomedcentral.com/articles/10.1186/s13047-015-0094-5 Esculier, JF., Dubois, B., Dionne, C.E. et al. A consensus definition and rating scale for minimalist shoes. J Foot Ankle Res 8, 42 (2015). https://doi.org/10.1186/s13047-015-0094-5
Barefoot training video: https://www.youtube.com/watch?v=TgFj3jy4h2Y